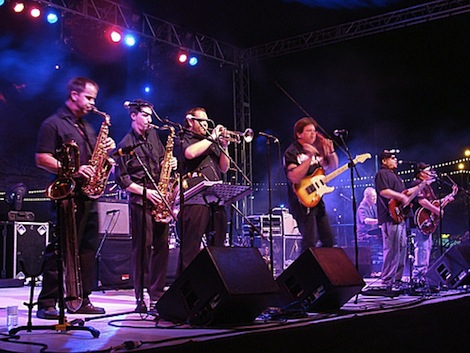 What: Concert
When: June 29, 2012
7:30 to 9:30 pm
Doors open at 6 pm
Where: Desert Botanical Garden, Ullman Terrace
Why: Get one last shot of cool before the hot summer months set in. Coming off their 20 year anniversary as one of the more recognizable blues bands in Arizona, Cold Shott and the Hurricane Horns are excited to return to the Garden with their mix of R&B, Blues, and Funk.
Enhance your evening with a gourmet meal or spirited drink. Fabulous Food Fine Catering and Events provides a chef-attended station featuring weekly specials for an additional charge. The Patio Café will be open during the concert with items for purchase from the daily café menu. A full cash bar and boutique wine selection will also be available for purchase.
Must be 21 or older to attend and show proper identification to be admitted. Children will not be admitted even if a parent or guardian is present.
Admission is $21 for the general public and $15 for Desert Botanical Garden members.
For questions call 480 481.8188 8 am - 5 pm, Mon. - Fri., 9 am - 4 pm weekends or visit the admissions box office (8 am – 8 pm daily).