EXTRA EXTRA!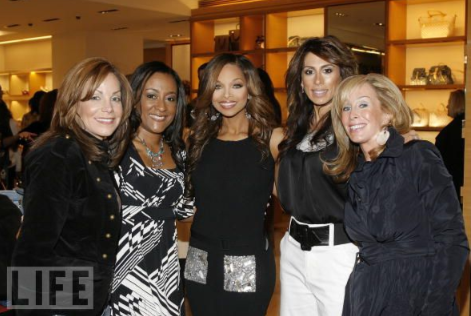 Kim Lewin, Raquel Miller, Pat Smith, Tina Dwyer and Lori Citron (Photo: Life.com)
Earlier today we shared some news regarding a possible pilot for The Real Housewives of Scottsdale, and heard that the first episode will be shot at the VIP opening of Scottsdale Quarter's Drybar this week. Since then, the story has been confirmed by several sources, and details on the cast have emerged.
A tip was sent to us from a lovely lady who works out at the Village with three cast members, who have admitted to having signed show contracts. Those ladies are Lori Citron, wife of anesthesiologist Gregg Citron; Tina Dwyer, ex-wife of former Phoenix Suns player Dan Majerle, Kim Lewin, Juliette Irakliev, Raquel Miller, Raya Cavernes and Char Hubble. We're guessing the three know each other, as they are pictured together above at a 2008 Louis Vuitton event at Scottsdale Fashion Square. 
Know more? Tell us! E-mail  This e-mail address is being protected from spambots. You need JavaScript enabled to view it .