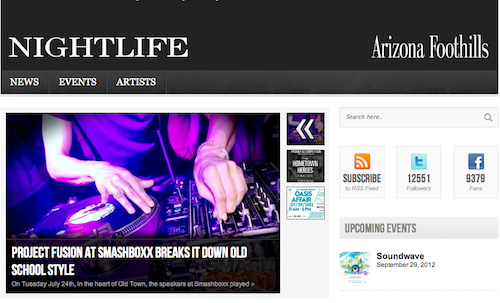 Sure, Phoenix is known as the Valley of the Sun, but half the fun is after the sun sets and a new world emerges. Ladies and gentlemen, we present to you the AZ nightlife scene, compliments of our very own Amanda Logan. 
Logan has traveled the world as a public relations manager for big name DJs under numerous companies before starting her own, DiamondHeadPhones. From Coachella to EDC (Electronic Daisy Carnival), Arizona to Amsterdam, this chick knows where to be and when to be there.
"I think the nightlife scene in AZ is evolving and getting better the more we educate," Logan says. "There are some great parties and even more amazing music in store. It's exciting to see."
She'll be spinning out the newest nightlife artists every week, as well as featuring must-see shows and hotspots around the Valley. So tune your ears and prepare yourself for AZ's Nightlife scene like you've never seen it before. www.arizonafoothillsmagazine.com/aznightlife/