Page 1 of 2
The quirkiness and ultra-eclectic vibe of SMoCA does not stop within its galleries. Its perfectly poised marketing and PR manager, Lesley Oliver, has a style that mirrors the museum. Lesley, can often be found parading around in some vintage ensemble- sweetheart-necklines, black lace and capes (in the winter) are some of her wardrobe staples. Lesley Oliver is a local cultural maverick and there are few who are as passionate about the arts and general well being of Arizona than her. Softly spoken and boldly dressed, Lesley finds delight in the vintage gems of Robert Black and stands behind a quote from Emily Post: "The woman who is chic is always a little different. Not different in being behind fashion, but always slightly apart from it."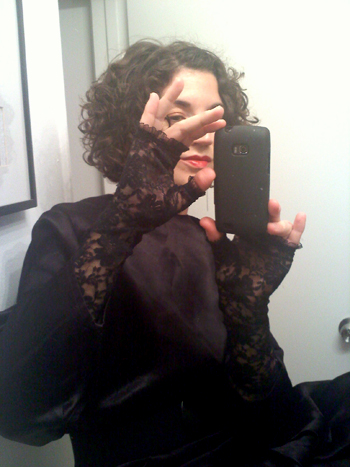 I speak with Lesley Oliver on her thoughts on style.
How would you describe your style?
My style is anything eclectic under the sun that strikes my mood. I'm married to vintage clashed with the soft flirtation of gothic/industrial; sometimes wanting to date avant garde; but swooning over the irreverent with romanticism and the dramatic.
If you had to wear one item of clothing for the rest of your life, what would it be?
Well, if it's ONLY ONE ITEM, I choose the 'little black dress' (of course). Something that can be heavily accessorized a million different ways since I can only choose ONE THING to wear. Yikes.
If you could steal one person's wardrobe, whose would it be?
Zoettica Ebb (see www.biorequiem.com). Actually, I wouldn't mind LOOKING like her too.
What is the crown-jewel of your closet?
I lost a lot of my vintage 'crown jewels' in a recent hasty move. For the moment, it is a taffeta brown/black plaid dress from Robert Black's vintage boutique.