When it comes to dining, there are a variety of restaurants around the Arizona State University campus that are student favorites. Whether you feel like visiting a sit- down restaurant with a group of friends, or grabbing a quick bite to eat, there are a variety of cafés and restaurants that will surely meet your needs. The Downtown Phoenix campus at Arizona State University offers some unique restaurants that are definitely worth visiting.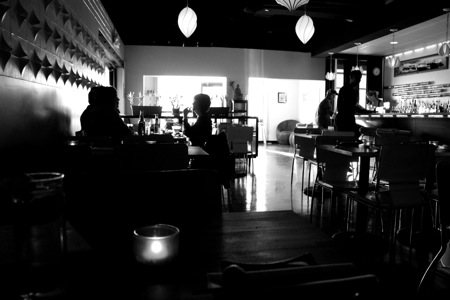 Sens Asian Tapas and Sake Bar in Downtown Phoenix, Photo: southsarepublic.org

One of my personal favorites is Sens Asian Tapas and Sake Bar in Downtown Phoenix. A friend introduced me to Sens one day after we decided to go there for lunch, and since then it has become a favorite of mine. The interior of Sens is decorated with modern décor and calming music is played. It is truly a delightful dining experience. Chef Johnny Chu prepares delicious Thai, Vietnamese, and Japanese dishes. The menu is filled with choices like red curry and sweet wasabi. My personal favorite happened to be the red curry served simmering in a clay pot dish. The Japanese green tea cheesecake is also definitely worth a try. If you're located in the Downtown Phoenix area, Sens is a great restaurant to visit for lunch and dinner. For Arizona State University students, it is right down the street from campus and a perfect place to enjoy fine Asian cuisine.
Province is a restaurant located on the corner of Central and Van Buren in Downtown Phoenix. This American restaurant serves South American and Spanish inspired cuisine. Province has two locations, one in Chicago and one in Downtown Phoenix. The staff at Province is extremely friendly and made sure that our dining experience was pleasant. You can opt for a traditional Caesar salad, or even a crab cake sandwich. Province is a great sit-down restaurant, and one of my favorites to visit with a group of friends during my long breaks between classes.
Sure, it is easy to choose a usual place to dine during the school day, but there are also a variety of restaurants located within walking distance from campus that will certainly provide enjoyable cuisine. One thing that I can almost guarantee is that it is probably a lot better than your regular dorm and dining hall food. Weather you enjoy Asian cuisine, or want to try something new like a South American inspired dish, Province and Sens are definitely worth a visit.