Walking stilt puppets, blazing-hot salsa and Día de los Muertos facepaintings are common treats for lucky Valley residents that happen to stroll Mill Avenue on that particular day. The Tempe Festival of the Arts proved to be a huge success this spring bringing in over 225,000 guests. And those guests were met with more than just the expected paintings, sculptures and jewelry, this spring's festival featured over 400 artists, street performers and of course, a whole lot of free food. What sets this festival apart from a typical arts and craft fair is that all the artwork sold and displayed at this festival is from its original artist who is also inside each booth to answer any questions, said the Managing Director of the Tempe Festival of the Arts, Kate Hastings.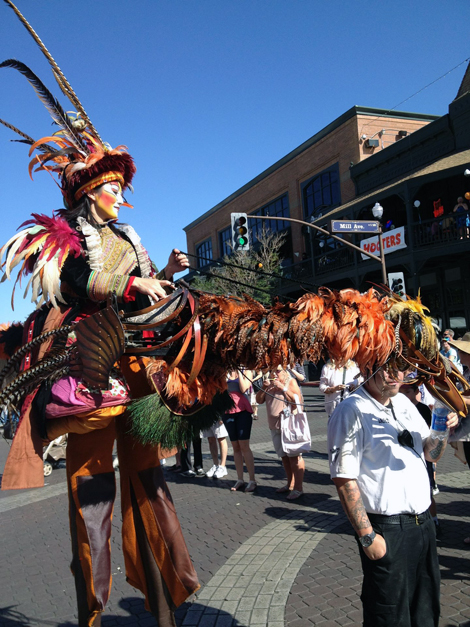 The visual categories of art includes photography, painting, sculpture, ceramics, jewelry, folk art, metalwork, woodwork, glass, leather, wearable art and leather. For those who relate more through the ear, the festival featured valley vocalists, professional pianists and just the classic rock-and-roll. Stilt puppets, magicians and guitarists dotted the streets keeping guests on their toes while they made their through the artwork.
After weaving in and out of the tents of stunning photography, captivating medal art and  uncanny clay sculptures, guests can head down Mable Street where the the culinary adventures begin. Given the rightful name Cottage Edibles and Crafts, the stretch of a street offers samples from tomato-basil goat cheese to peach-zucchini jam to fiery ghost salsa to turkey jerky. Needless to say, this was one of the busier streets at the festival. Guests could not only try and buy the delicious edibles right there but they could ask the original chefs themselves about recipes, and meal ideas.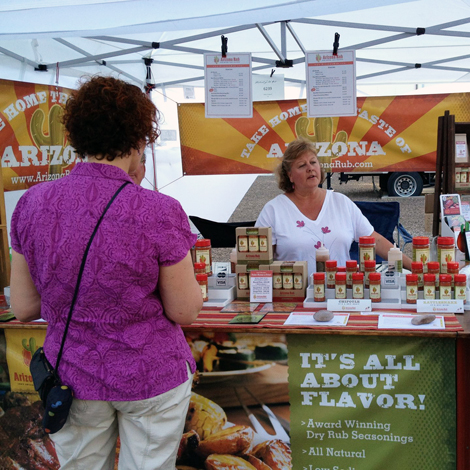 Not to leave out the classic festival food favorites, the Kettle Corn, chocolate-dipped fruit Kabobs and frozen lemonade were seen in almost every other guests hands as they admired the spectacular art surrounding them. If these treats didn't suffice, most of the restaurants on Mill Avenue were open for the guests with a bigger appetite.
This 35-year-old tradition occurs twice a year, once in the spring and once in the fall. Admission is free, but the festival does offer special events inside the festival such as the Wine Festival or the Beer Festival for a small fee. 
It would be impossible to mention absolutely everything a person can experience at the Tempe Festival of the Arts. This is a place where a person can walk through a tent selling art completely made using license plates and a place where the windchimes never stop spinning. With the artists ever-changing, there is no telling what the fall festival will have to offer, but if it's anything like it's been in the past, its attendees will not be disappointed.