More Than Just a Pretty Face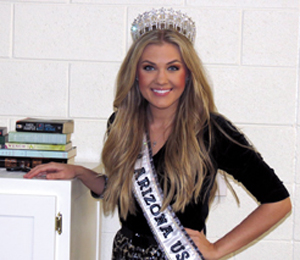 Erika Frantzve:
"When I learned that by competing I could touch more people, further my causes, I knew it was a chance to make a greater impact," says Miss Arizona USA.
With dazzling beauty, a heart of gold and an unrivaled passion for philanthropy, Miss Arizona USA's self-proclaimed "tomboy" Erika Frantzve sets out to prove that a girl who can't run in high heels can claim the Miss USA crown in 2012. "I didn't wear my first pair of heels until I was 14 years old, but I had a really mean lay-up," she says.
Raised in a tight-knit Catholic family, the 23-year-old Arizona native says she first became interested in pageants as a way to continue giving back to the community. "My mom used to take us to soup kitchens and constantly said we needed to share our blessings with others," she says. "When I learned that by competing I could touch more people, further my causes, I knew it was a chance to make a greater impact."
Frantzve participated in several pageants before taking a break to attend college, where she pursued her first love—basketball. After playing for two years on the women's team at Regis University in Denver, Colo., she says she found herself being drawn back into pageants. By this point, she was also ready to spend more time on her Arizona-based organization, Everyday Heroes Like You, which she started in 2006 to raise funds for under-recognized charities. "I have a passion to help people in general so when I was creating my nonprofit, I didn't want to focus on [just] kids or animals, I wanted to make it all-encompassing, find a way help everyone in a unified way," Frantzve says.
After moving home to finish her remaining courses at Arizona State University, the political science major delved back into pageants. During her first appearance at the Miss Arizona USA competition in 2011, she earned herself the honor of first runner-up and caught the eye of both officials and fans.
When she competed this year, Frantzve was a natural choice for the title. On Nov. 20, 2011—her 23rd birthday—she won the crown. "She catches your eye with her stunning looks, then captures your heart with her warmth and character," says Miss Arizona USA's Executive Producer Britt Boyse. "Miss USA is an ambassador, someone who can be comfortable in any situation, with many different personalities, and Erika is all that and more. I whole-heartedly believe she has what it takes to go all the way."
With the Donald Trump-sponsored Miss USA competition taking place this month, Frantzve says she is using every minute of her yearlong reign to promote her various charities and bring awareness to her platforms. "Don't tell anyone," she says, "but that sparkly tiara is only a little plastic hat. What really matters is making a difference, and I want to change the world. The bling is just a bonus."
TO LEARN MORE

Everyday Heroes Like You
www.everydayheroeslikeyou.com.
Miss USA
www.missusa.com.