Since 2004, the Pat Tillman Foundation has been ever-growing, investing in veterans and military families through education and community.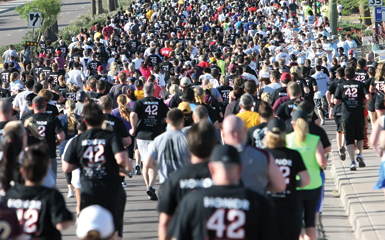 In a selfless act of heroism and patriotism, Pat Tillman, Arizona Cardinals player, put his fame and increasing fortune on hold to serve his country immediately after the attacks on Sept. 11, 2001. His valiant acts turned tragic in 2004 when Tillman was killed by friendly fire in Afghanistan while serving with the 75th Ranger Regiment.
Immediately after the loss of a true American hero, Tillman's family began receiving overwhelming support from all around the country. True to Tillman form, the family decided to use this
support to help others (namely, military families and veterans), and in 2004, the Pat Tillman Foundation was born.
Marcy Wojtulewicz, deputy director of the foundation, says that some of its biggest sources of support are yearly fundraisers. For instance, Pat's Run is an annual fundraising event that is held in April at Arizona State University's Sun Devil Stadium for the community to help honor and carry on Tillman's legacy. Everyday athletes are also encouraged to join Team Tillman to draw attention to the hero's legacy by competing in marathons, triathlons and other athletic events in his honor.    
All proceeds raised by donations and fundraisers support veterans and military families through education and community. The foundation's biggest donation is through its Tillman Military Scholars Program. With this program, military scholars are chosen in affiliation with 12 partner universities to carry on Tillman's legacy through succeeding in their own educational goals. (Individuals at outside universities are welcome to apply, as well.) The foundation removes financial barriers for the veterans by providing them with a scholarship. "Our goal is to continue to honor Pat's legacy by inspiring people close to Pat to have their own legacies," Wojtulewicz says.
More than $2.7 million has been invested in three classes through the Tillman Military Scholars Program. (Since its inception, the foundation has invested more than $4.5 million in scholarship support to individuals committed to a life of service both in and out of uniform.) In June, the third class of military scholars was selected. These scholars are now preparing to embark on their educational journeys, guided by Tillman's ongoing legacy.
Matthew Randle, recipient of the Tillman Military Scholarship and U.S. Army veteran, says that the impact the Pat Tillman Foundation has had on his life is immense. "To be a part of helping carry on Pat's legacy and to be a part of representing that kind of sacrifice and commitment is something that I take very seriously, and it is very humbling. I believe that this generation has the ability to be the next greatest generation," Randle says.
Randle, a student at the University of Arizona, is using his scholarship aid to pursue a law degree. "The scholarship helps me to focus on the things that matter academically and allows me to put forth the effort necessary to excel in my studies. If we are to become leaders in our community, a full and serious education is an important part of becoming that leader," Randle says.
To Learn More
The Pat Tillman Foundation www.pattillmanfoundation.org.