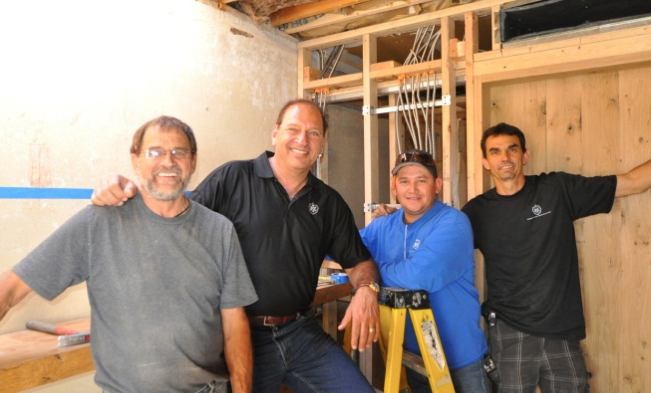 "Seize the day!" Indeed, Horace said it best in Odes but many on our team echo that mantra daily, hoping to bring a never-had opportunity to each woman of The Rescue Project.  The compulsion to act is so unique to each donor, but the result it yields is synergistic and has culminated in a product that has well exceeded our expectations and highest aims. 
What was it that tipped the scales for those involved? Read on.
For Tim Harris, President of Quail Plumbing, who generously donated all of the labor and materials to re-pipe all water supplies and drainage systems and install all of the plumbing fixtures for all ten Dream Rooms, it was a desire to bless others.  "I walked in, day one.  That is when I began to really understand the enormity of what The Dream Project is doing and will continue to do.  My wife and I have been blessed with three children and we have been able to provide them with many wonderful opportunities and experiences.  I am sure these women have never had "good opportunities."  I knew at that moment that I personally wanted to be one to give them a good opportunity."  A desire to bless others.
For Jake Guenther, CEO of Jake's Framing, a specialized framing company here in the Valley for over 25 years who contributed all the labor and materials to provide rough carpentry for all the new walls, ceilings and decorative beams for Dream Rooms designed by Ownby Design, Palm Design Group, Oz Architects/Interiors, Janet Brooks Design, and Overstreet Interior, it was an extension of his faith.  "I felt compelled to help these suffering women get back on their feet.  My family has been involved in the Christian Family Agency for over 20 years and we are keenly aware of the plight of these women.  There was no question if we were going to be involved.  We were 110% committed from the start."  An extension of his faith.
Nick Ferrantello, Owner of Star Plastering, a family owned business that specializes in exterior stucco and plastering, it was a desire to change the community one individual at a time. "Anytime that I am able to assist an individual in need or someone that deserves a second chance, I'm there.  If one woman's life is improved, the mission is accomplished."  Indeed, their generous donation of all exterior stucco (working on the outside of the 4th floor was a lot of fun!) and interior plaster over the existing slump block walls for all ten Dream Rooms, has made such a difference. A desire to change the community one individual at a time.
The personal stories of why so many chose to be involved in this project are robust and rich.  They are the stories that compel each of us to move out into our communities and make a difference here in Phoenix.  We are confident that many lives will be changed through The Rescue Project and look forward to sharing the successes with you.
A special thanks to Heldt Lumber and Southwest Building Supply for all you have donated.