Page 3 of 3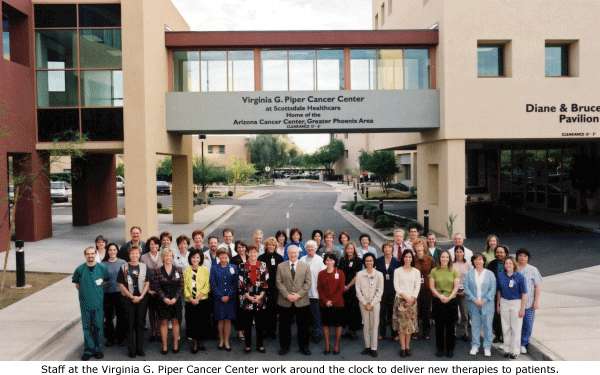 Cancer Care Coordinators
The first of its kind. This free "nurse navigator" service of Master-trained registered nurses with advanced expertise in oncology are specially trained to help answer questions, provide guidance and facilitate personalized care to patients and their families. The services, today, are so widely known and accepted that it is now duplicated in hospitals across the country.

The Firsts
Virginia G. Piper Cancer Center holds many notable firsts throughout the Valley.
-They were the first in Phoenix to offer Phase I clinical trials of investigational cancer drugs, including more active Phase I clinical trials than any other cancer center in Arizona.
-The center was the first in Phoenix with a cancer genetic risk program, a cancer exercise program, a music and art therapy program, a cancer information library open to the public, and a retail boutique dedicated to meeting the needs of cancer patients.
-They were also the first in Arizona to perform daVinci robot-assisted surgery for treatment of prostate cancer as well as the first in Arizona with the Novalis shaped-beam radiation therapy system for tumors generally untreatable by surgery.

Notoriety
The Virginia G. Piper Cancer Center was named primary clinical research site for the Translational Genomics Research Institute (TGen) as well as the co-lead site for the Stand Up to Cancer pancreatic cancer research Dream Team, noted under the leadership of world-renowned oncologist and cancer researcher Daniel Von Hoff, MD, the chief scientific officer for the center.

Looking back on past achievements, successes and lives bettered by the center, the participants behind the Virginia G. Piper Cancer Center look on to the future of the center and their goals of fighting and treating these heartbreaking diseases. "We know there is much work yet to be done in the battle with cancer," Sadvary says. "Our job is to give each person who walks through our doors the tools to help them through their battle, to help keep life in the moments."