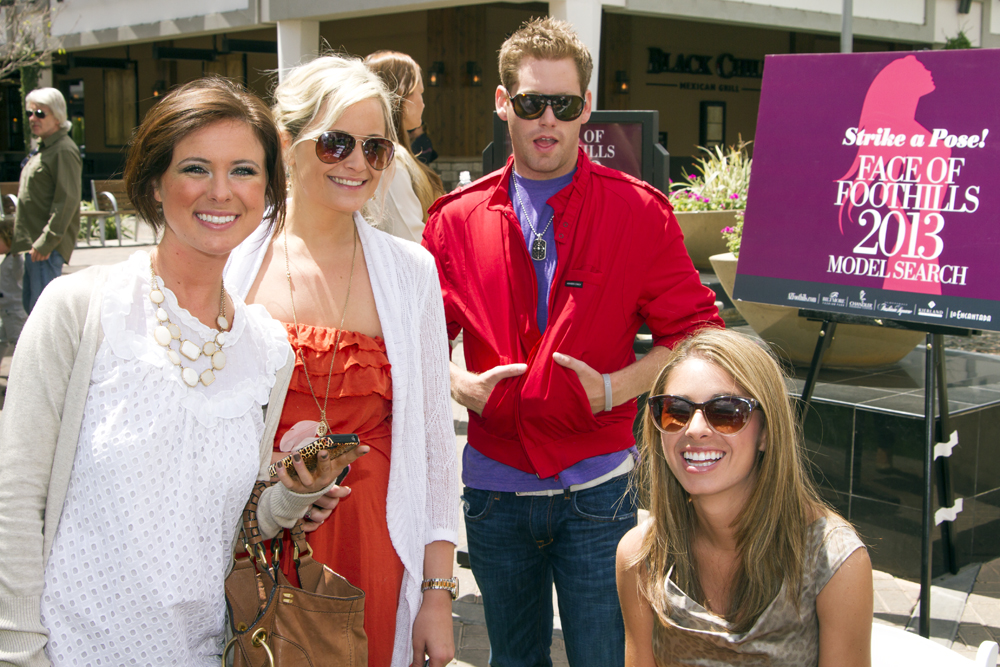 Arizona Shopping Centers and Arizona Foothills Magazine held the first Face of Foothills 2013 Casting Call, last Saturday, at Biltmore Fashion Park. Many of the Valley's most beautiful men, women and children turning out to become the next Face of Foothills! Potential models lined up at the events to turn in applications and have pics taken by a professional photographer, with the opportunity to win $10,000+ in prizes.
Because there were so many beautiful kids, the Face of Foothills Model Search was separated into two separate contests- The Face of Foothills and The Future Face of Foothills. If models are 15 or younger at the start of contest voting (July 1), they were considered for a Future Face of Foothills contestant. All those 16 or over as of July 1 were considered for the main contest. Details will follow for the Future Face of Foothills Contest!
Arizona Foothills is still accepting entries through June 11. For entry details, rules and regulations, click here.
Face of Foothills voting will begin July 1! All Models are welcome to submit a different headshot to display for voting, but must do so via e-mail by June 11. Headshots submitted at Casting Calls must be re-submitted digitally. Please e-mail your new headshot to   This e-mail address is being protected from spambots. You need JavaScript enabled to view it This e-mail address is being protected from spambots. You need JavaScript enabled to view it  with the subject line "New Headshot", and include your name and the Casting Call center you attended with your images.
All questions must also be submitted in writing to  This e-mail address is being protected from spambots. You need JavaScript enabled to view it .
Casting Call 411
Look your best and dress to impress because all models will take a professional headshot at each casting call. You will also need to fill out basic information and initial contest rules. Models under 18 must have a parent or guardian present. Models under 16 will be entered into AZFoothills.com's separate Future Face of Foothills or Beautiful Baby contests.
As a special bonus, all models who attend one of our four Casting Calls will start the contest with 1,000 BONUS votes!
If you missed last Saturday's Casting Call, come to this Saturday's Casting Call at Kierland Commons from 11:00 am to 1:00 pm.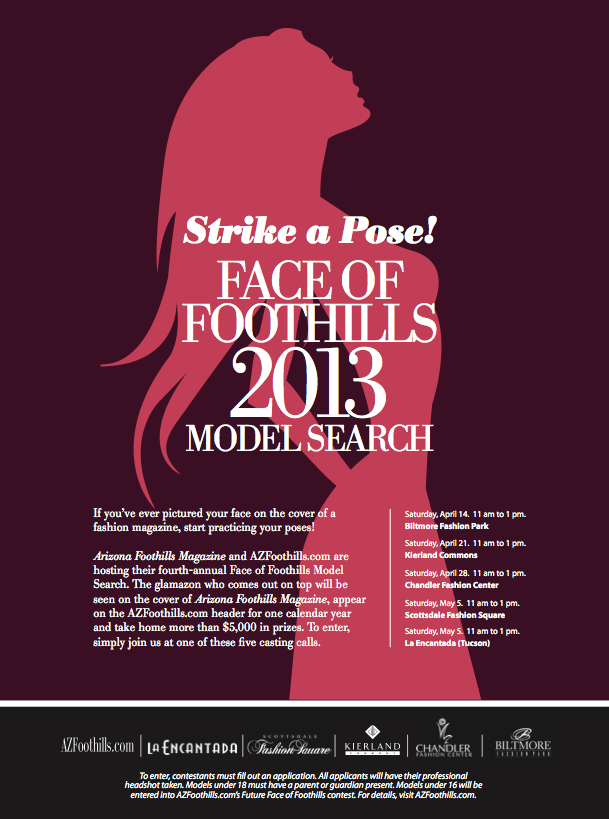 Casting Calls will be from 11 am to 1 pm.
Saturday, April 14

       Face of Foothills Casting Call- Biltmore Fashion Park

Saturday, April 21
Face of Foothills Casting Call- Kierland Commons

Saturday, April 28

       Face of Foothills Casting Call- Chandler Fashion Center

Saturday, May 5

           Face of Foothills Casting Call- Scottsdale Fashion Square and La Encantada
Click here to see rules are regulations.   

Click here to see pictures from last year's event.
See previous winner's here and here.