Page 2 of 2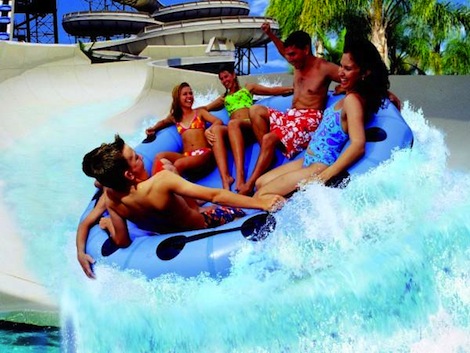 Salute to our Heroes, Wet 'n' Wild, Phoenix
Honoring our veterans with a poolside extravaganza has never been this easy and fun. Wet 'n' Wild Phoenix is pouring out an entire weekend of family fun with firework displays on Saturday and Sunday evening as well as an all-you-can-eat barbecue. Slap on the shades and sunscreen for this is one celebration to dive right in. The barbecue is served from 7 p.m. to 8:30 p.m. in the picnic area and will include grilled chicken and hot dogs, green salad, western-style beans, corn-on-the-cob, sliced seasonal fruit and Coca-Cola beverages. The firework shows is free with park admission and begins at 9:30 p.m. www.wetnwildphoenix.com.
2nd Annual Memorial Day Ride, Phoenix
Rev up your engines, the 2nd Annual Memorial Day Ride in Phoenix takes place on Sunday, May 27, 2012 to honor all our American heroes. Registration opens at Buddy Stubbs Harley-Davidson at 2:30 p.m. The cost is $25 for one passenger, $40 for two passengers per bike and includes ride and entrance to the concert by Western Bred. First 300 get free ride T-shirts/tanks. For additional information, contact Amy Petrovsky at 602.696.4646.
Hotel Valley Ho, Scottsdale
Make the most of Memorial Day weekend in Phoenix thanks to Hotel Valley Ho. With features like live music poolside, special room rates and brunch at ZuZu, there isn't a better reason not to kick back and relax. Elvis Before Noon plays retro and modern tunes poolside from 3:30 to 6:30 p.m. Friday, and DJ P-Body spins music 1:30 to 5:30 p.m. Saturday and Sunday. Drink specials include $6 cocktails, $3 beers, and $15 beer pails. Brunch at ZuZu from 11:15 a.m. to 2:30 p.m. Saturday and Sunday features options like the breakfast parfait, florentine frittata, and the Sonora burger. Visit the Bloody Mary Bar and make your own from 9 a.m. to 5 p.m. on Sunday. Room rates begin at $179 Friday and Sunday, and at $219 for Saturday. www.hotelvalleyho.com.
5th Annual Memorial Day Parade, Surprise
On Saturday, join families from around the Valley for the 5th Annual Memorial Day Parade at the Surprise Recreation Campus. The parade honors our active and retired military personnel ad runs along Bullard Avenue, beginning at 8:30 a.m. Prizes will be awarded for the following categories: Best Motorized, Symbolism, Best Overall and Best Youth Entry. A wreath-laying ceremony follows the parade.
Memorial Day Observance, Phoenix and Chandler
On Monday, this annual service in Phoenix honors fallen heroes with a traditional ceremony that includes a posting of the colors, a wreath presentation, rifle salute and taps at the Valley of the Sun Mortuary in Chandler and the Cemetery and Pioneer and Military Memorial Park in Phoenix. Family and friends gather to remember their loved ones and reconnect with resources focused on the service of these brave men and women. www.azhistcemeteries.org, www.valleyofthesuncemetery.com.
Salute to the Troops Concert and Barbecue, Litchfield Park
The historic resort begins a new tradition on Memorial Day in Phoenix, celebrating our nation's heroes beginning with a barbecue at 5 p.m. on the front lawn and a concert performed by Luke Air Force Base's own classic rock band, the Screamin' Javelinas. All-you-can-eat barbecue is included and refreshing drinks are available from the Wigwam's culinary team. A portion of proceeds is donated to the Fighter Country Foundation, a nonprofit group focused on supporting programs and services at Luke Air Force Base that aid, support and honor airmen and their families in need. $15, $7 for children, free for 4 and younger, $169 starting room rate, $79 discounted room rate for military, law enforcement and firefighters. www.wigwamresort.com.