Page 1 of 3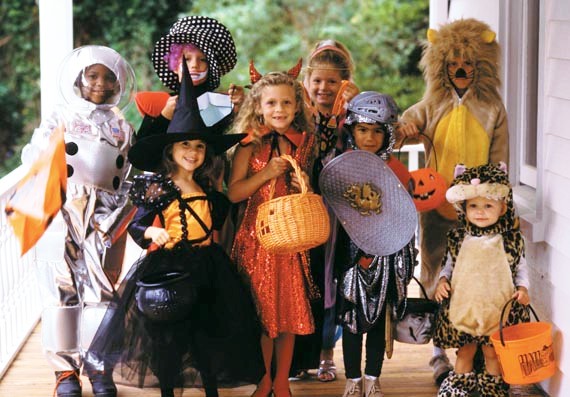 Halloween is one of the many holidays that get children excited, and it's easy to figure out why. From the candy to the idea of dressing up in costumes, it's a time that we all remember and have our own experiences. Times have changed, though, and the idea of allowing children to walk door to door as most of us did in the past may not be the most comforting; however, each of these events allow parent and their children to fully enjoy this boo-dacious holiday without having to worry about safety. 
River Ranch of Pointe Hilton Squaw Resort: Fri., Oct. 26 (Scottsdale)
The 16th Annual Pumpkins at the Peak event offers an afternoon of great Halloween fun for the entire family to enjoy. The ranch will be transformed into a spooky mysterious place of ghouls and goblins that will capture this high- spirited holiday. A few activities to look forward to are the 20- plus crafts and carnival games, live entrainment, and snack booths full of Halloween goodies and treats. 
Children are encouraged to dress in their costumes, but parents, don't let that stop you from having a little fun of your own. In addition to getting into the Halloween spirit, it's important that people always think of others--as an entrance fee, River Ranch is asking guest to eight bring two cans of food or $5 per person that will go towards St. Mary's Food Bank and their fight against hunger in the Valley. 
For additional information, visit: http://www.pointehiltonsquawpeak.com
Boo! at the Phoenix Zoo & Howl-O-Ween: Tues. and Wed., Oct. 23-24 (Phoenix)
If you're looking for a great morning activity for your kids, Boo at the PHX Phoenix Zoo is the answer. While taking a stroll through the 125- acre zoo, guests can view elephants, and other animals while enjoying some very unique changes geared to celebrate Halloween. 
During the visit, guests can "Pumpkin Stomp and Chomp," and enjoy pumpkins and other similar Halloween treats. Harmony Farm, has undergone a transformation into a fall festival which allows children seven and under to participate in games and all sorts of fun activities.
"Tails from the Crypt" is a new section of Boo! at the Zoo, that creates a unique scenario that includes guests in a Haunted Forest. And if you have older children, Howl-O-Ween offers three activities, from least scary to scariest, that could be really fun for brave at heart. 
For additional information, visit: http://www.phoenixzoo.org
Halloween Monster Bash: Sat., Oct. 26 (Peoria)
With a variety of awesome and fun activities, the Peoria Sports Complex hosts the Halloween Monster Bash that provides a safe environment for families to take part in.
Some of most anticipated activities include: Hay Rides, Slime-Making, Laser Tag, and the Costume parade that is available for children of all ages. Similar to another event, free admission is granted to those with canned food items in support of St. Mary's and Westside Food Bank Alliance. 
For additional information, visit: http://www.peoriasportscomplex.com