Page 1 of 2
Diosbel Canete had no idea there was any problem with his brain until a seizure in his home landed him in a hospital emergency room.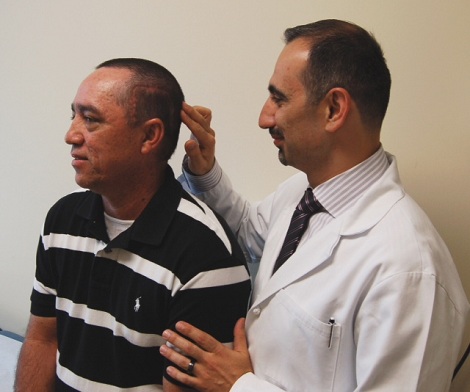 Dr. Yusupov checks Diosbel Canete's surgical scar
That was January 19. Canete thought the seizure was simply the result of routine stress. It was not.
Canete's medical journey after his seizure started with a visit to his primary care physician. "He sent me to a neurologist who prescribed medication to control the seizures," Canete said. Time passed.
Diosbel Canete is an easy-going, soft-spoken man in his late forties who drives a truck for a local charity, picking up donations of clothing, furniture and other items for the disadvantaged. After the seizure, Canete's life was on hold. He was unable to drive while his progress on the medication was monitored.
When the medication didn't stop the seizures, Canete was referred to Igor Yusupov, MD, a neurosurgeon at John C. Lincoln North Mountain Hospital.
"When we see patients of Mr. Canete's age with an uncontrollable seizure, the number one reason is the presence of some kind of tumor," Dr. Yusupov observed. Four days of tests confirmed the presence of a tumor in Canete's left temporal lobe, right in the middle of the brain area that controls language.
Dr. Yusupov went on to explain that brain tumor treatment philosophy nowadays is to maximize the patient's survival with "surgical resection," going into the brain and physically cutting out the tumor.
"We aim to remove as much of the tumor as possible without causing neurological deficits by removing brain tissue," he said. "It's a difficult balance to strike."
Canete's tumor was small and not immediately life-threatening, so the decision to operate was a sober one, focused on long-term benefit. If Dr. Yusupov did not operate, the tumor would slowly grow, eventually destroying Canete's ability to speak and ultimately causing death.
The doctor knew he could remove almost 100 percent of the tumor, but "because of the location, if you don't do absolutely the right thing, the surgery could also destroy the patient's speech," he said.
Because Canete is relatively young, Dr. Yusupov said, if the surgery were not successful, he would be disconnected from the ability to speak, to understand language and correlate it to everything else in his life – for decades.
In addition to being risky, Dr. Yusupov explained, the surgery also would be physically stressful and psychologically challenging – because part of it has to be done while the patient is awake.
"Usually we use electricity to elicit a response from the brain," Dr. Yusupov said. "Since the brain is a bunch of cables, we can stimulate an area of the brain and elicit a response in an arm or a leg. That's how we confirm the location of a motor area." That kind of testing can be done while a patient is under anesthesia.
In contrast, when surgery is done on areas of the brain that affect speech and cognition, the patient has to be awake to answer questions so the surgeon knows when he is close to an area that, if disturbed, would impair or even destroy speech function, Dr. Yusupov explained. There is no way to elicit speech while the patient is anesthetized.
"You want someone who is generally healthy, because it is a tremendous physical stress to be going through this procedure awake," Dr. Yusupov observed. "If a patient is not able to withstand the stress, the surgery cannot be done."
There is mental as well as physical stress, he said, because it would be normal for a patient to be fearful or panic. The ideal patient for such as surgery is a calm, levelheaded individual, someone who generally is not fearful or easy to upset. That describes Canete perfectly.
"I felt very confident with Dr. Yusupov," Canete related, "because he took the time to explain everything he saw on the MRI, and about the surgery that would be needed. For me, he is the best doctor I have seen since coming to Arizona in 2005, because he sits in front of you and explains everything very well. He gave me the confidence to say yes to the surgery."
The doctor explained that in the first part of the surgery, Canete would be anesthetized while the surgical team bolted his head into a brace to prevent movement, and cut through his scalp and skull to reach the brain tumor.
"We go to great lengths to numb the surface tissue areas that otherwise would be painful to the patient," Dr. Yusupov said. Interestingly, the brain itself has no sensation.
Canete would need to be awakened once the doctor was actually working inside the brain, so Dr. Yusupov could determine from verbal responses what areas of the brain were critical to Canete's speech and to avoid those areas as he cut out the tumor.
To do this, the wide-awake patient is presented with pictures on flash cards, and asked first to verbally identify the object, and also correlate it with a function. If the card shows a picture of a red ball, the patient may be asked not only to name the object, but also describe its color, its shape or what you actually do with it. The questions are simple, but they require speech function, speech memory and correlation.
As the patient is being shown the flash cards, and while he is answering, the surgeon is stimulating areas of the brain, testing which areas do and do not affect speech function. If a part of the brain that is critical to speech is interfered with, the patient's speech becomes garbled or he is unable to respond. In this way, the surgeon can "map" that particular patient's brain, and determine precisely where the speech-critical areas are located.