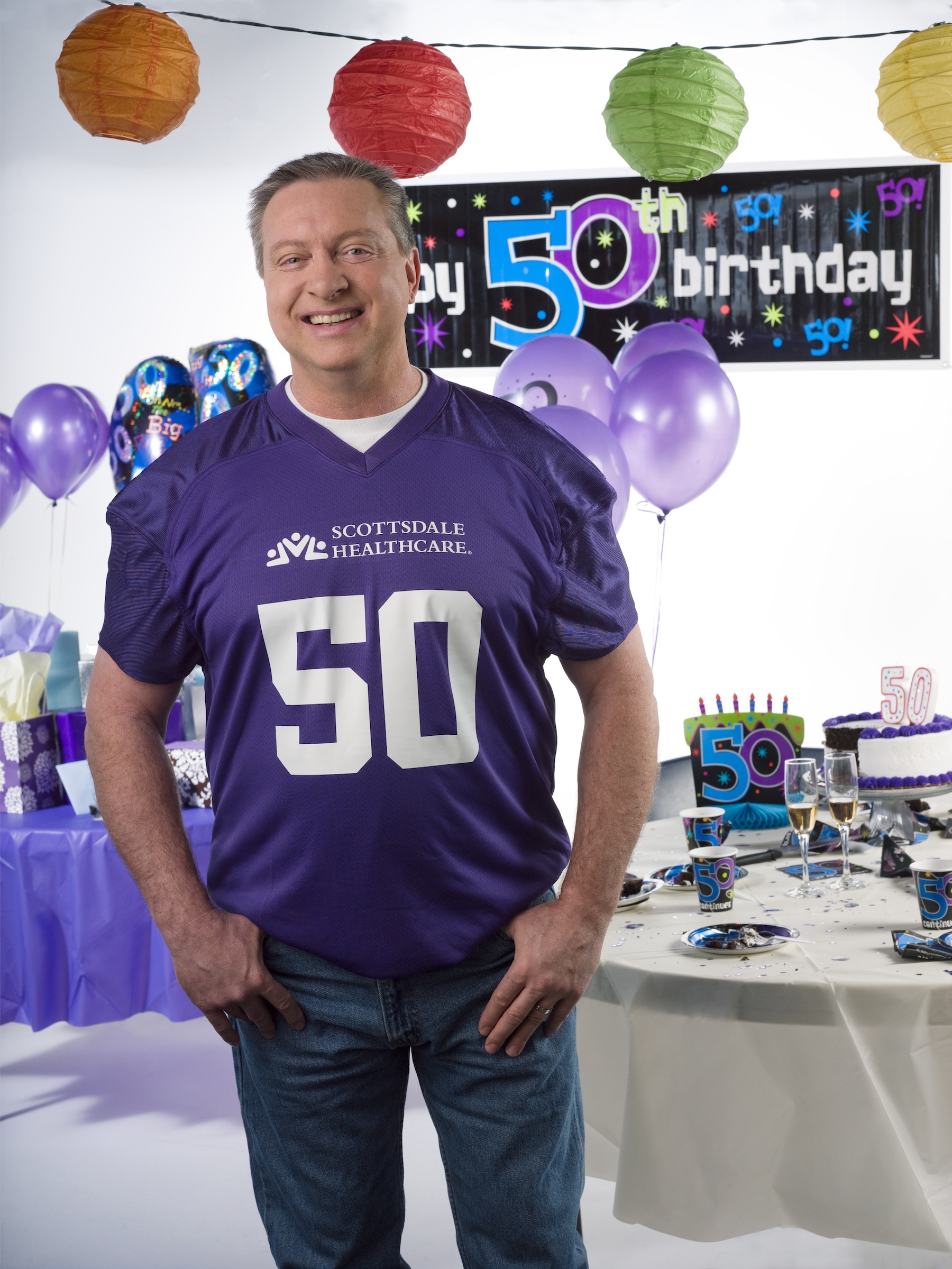 If you're over 50 and have been putting off your first colonoscopy, it's time to face your fears. Of course you're not comfortable with the thought of having a colonoscopy, but ask yourself this: Are you comfortable with the thought of succumbing to the nation's second-leading cause of cancer death? Especially when that colonoscopy you didn't have could have helped avoid it?
Colon cancer is the second leading cancer killer of men and women – but it doesn't have to be.  It can actually be prevented through colonoscopy screening. "Colon cancer is probably the most preventable cancer because it usually doesn't come out of the blue. It takes a long time," says Stuart Triester, MD, a board-certified gastroenterologist at Scottsdale Healthcare. "A person is usually normal, and then develops polyps on the bowel wall," he says. "Those polyps get bigger and can turn into cancer."
That means it's important to remove benign polyps, which often can be accomplished during – you guessed it – a colonoscopy. "By eliminating the polyps, you're helping to eliminate the risk of cancer," Dr. Triester says. 
Polyps are found in approximately 30 percent of people older than age 50 and typically don't cause any symptoms. While most polyps do not become cancerous, it can be difficult to tell which will or will not lead to disease, so all are removed during a colonoscopy. 
According to Dr. Triester, a screening colonoscopy is recommended starting at age 50, or age 40 if you have a family history of colorectal cancer or polyps. The outpatient procedure, he adds, isn't as uncomfortable as you may imagine. Newer preparations and twilight sedation make the procedure much more comfortable than in the past.
Former NFL Cardinals fullback and KTAR sports talk show host Ron Wolfley recently celebrated his 50th birthday, and while getting a colonoscopy was definitely not the highlight of reaching this milestone, it's something he's glad he can mark off his to-do list.  
"It was a piece of cake!" Wolfley said. "As men, we really don't like to put ourselves in a vulnerable situation, but I'm so glad that I did."   
A benign polyp was found during the procedure and was removed right then and there.  "Even though the polyp was non-cancerous, there is a possibility that over time it could have developed into cancer.  That's the scary part!" he added.
"If you're still fearful of getting a colonoscopy, it's time to man up and get over yourself!" Ron stresses. "If not for yourself, do it for your family."
If you're 50 or older, live more and fear less by scheduling a colonoscopy consultation at Scottsdale Healthcare.  Visit 50andfearless.org, or call 480-882-4636.