As I begin to decorate the soon-to-be nursery in my house, I am considering paint colors, crib styles and new curtains. Just some basic updates to turn my guest room into an adorable baby room. But then I saw these kids' bedrooms and suddenly my nursery décor seemed rather dull, if not pathetic. These children's custom beds are as good as it gets for a little boy or girl.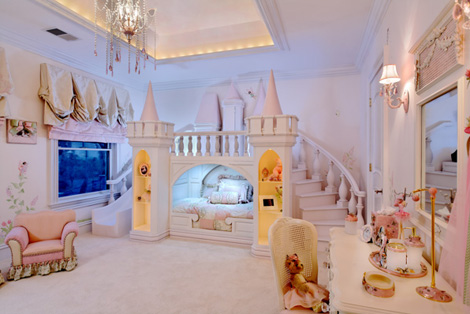 Called Sweet Dreams Children's Interiors, this custom furniture company is known for creating amazing beds for celebrities, royal families and professional NFL sport starts. Sweet Dreams was featured on Kimora Lee Simmons TV show "Life in the Fab Lane." She ordered two custom beds for her daughters.
A favorite bed for little girls is the "Girls Princess Playhouse Deluxe Castle" bed, which combines a playhouse castle loft bed with creative amenities for maximum fun and usability. Here are some of the design details of the Princess Castle:
* Choice of custom colors and scenes - from pink to purple to enchanted forest, the sky is the limit.
* Playhouse castle loft bed with scalability to accommodate beds from twin to king size
* Hidden drawers in stairs leading to loft for maximum storage and usability
* Optional slide for speedy and thrilling exit from loft
* Double bunk option for "princess" sisters
* Wide selection of matching trunks, dressers, mirrors, and more to complete the fairytale look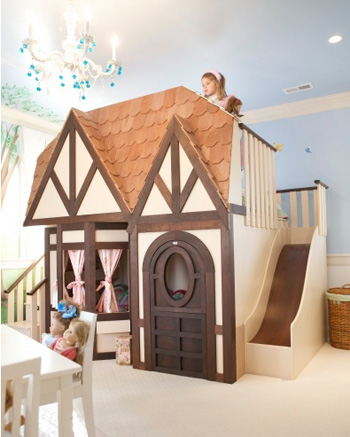 Beds can also be tailored for children with special needs, which can be helpful for families facing unique illnesses or disabilities. But of course furniture like this does have its cost, and it isn't cheap. Prices start at $5,000 and some custom pieces go up to well over $20,000. Construction takes six to 10 weeks for creation and delivery. Visit Sweet Dream Bed's website for more information: www.sweetdreambed.com.
Comments
(0)


Subscribe to this comment's feed
Write comment