Rachel Roland is a mom on a mission - exploring beautiful Arizona (and beyond!) with her two little companions, Jeremiah and Sarah, in search of the best restaurants, attractions, and products for you and your children. See what she has in store for your family today!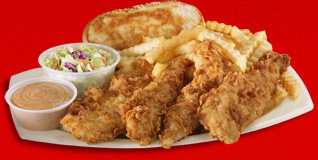 There's a relatively new 'fast food' restaurant in Phoenix - maybe you've heard of it? Raising Cane's, which currently has two Valley locations and is building more, is a simple restaurant that serves a food that my kids both love (I bet yours do, too!) ...chicken fingers and french fries. We were invited to have lunch at the Raising Cane's location on 44th Street and Thomas in Phoenix, and I was pleasantly surprised. We are not a fast food family, typically, and so I am always a little wary of these kind of restaurants. However, I was very happy with the high level of service, the cleanliness of the restaurant, and the quality of the food.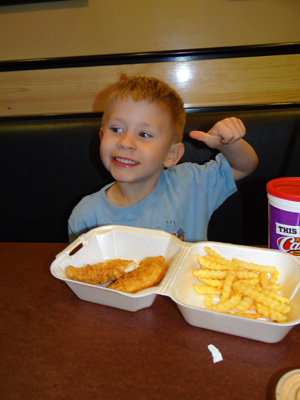 (This is Jeremiah's 'better than a thumbs up' sign. It means the food is very good.) There's not a huge menu - as I said before, they serve only chicken fingers. (Much like another highly regarded fast food restaurant that keeps their menu sweet and simple.) The kids both had meals and I have to say - the food was good. We don't have deep fried food a lot, but these chicken tenders are cooked to order, always fresh, and marinated for 24 hours before cooking.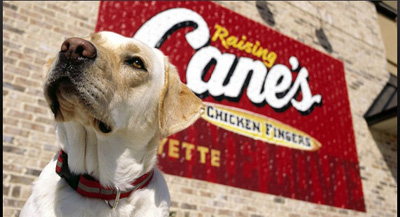 I had a chance to chat with owner Justin about the Raising Cane's philosophy and how their business is run. The employees are expected to be more like full-service restaurant employees - for instance, they'll bring your food to your table or grab a refill for your pop - and they are very sweet and thoughtful. Raising Cane's in Phoenix also works with local charities - on holidays like Easter, Memorial Day, and Labor Day, they donate 100% of their profits to a different charity. Right now, there are two restaurants in Phoenix, with a third opening soon in Tempe - as you can imagine, they can donate a lot of money.
This Memorial Day (Monday!), if you're in the mood for chicken fingers, stop by one of Raising Cane's two locations - 2715 W Peoria Ave or 4325 E Thomas Rd - and all the money they make will be donated to the Crohn's and Colitis Foundation.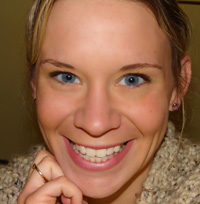 I'm Rachel - a mom, wife, and 'green' blogger at Small Steps On Our Journey. If you want me to come visit your place of business, have any questions on this article or suggestions for a future article, you can email me at This e-mail address is being protected from spambots. You need JavaScript enabled to view it , or tweet me at @rachelroland, or connect with me on Facebook.
Comments
(0)


Subscribe to this comment's feed
Write comment