Rachel Roland is a mom on a mission - exploring beautiful Arizona (and beyond!) with her two little companions, Jeremiah and Sarah, in search of the best restaurants, attractions, and products for you and your children. See what she has in store for your family today!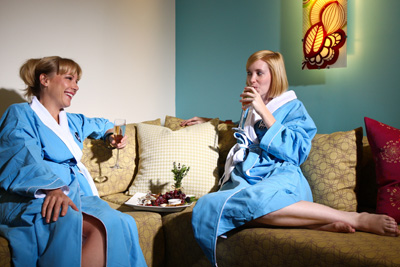 As a mom, it's so important to take the time to relax and spend some time being pampered - after all, you spend plenty of time taking care of other people, so why not focus on yourself on occasion? The VH Spa for Vitality + Health, located at the Hotel Valley Ho in Scottsdale, is a fantastic spot for just that - it's not huge, but not tiny, either. When you walk in, you're immediately greeted by the soft-spoken and very accommodating front desk staff, who bring your hot tea back to the lounge area and give you a small tour. If you need anything while you're there, you can ask for it - it's very relaxing and pampering to be the one who's waited on for a change!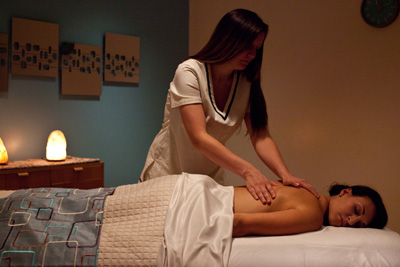 When I visited, I took advantage of the "Weekday Sampler" package, which includes two 30 minute treatments for $99, (it includes service charges and gratuity)  You certainly can't go wrong with these speedy services for busy moms and dads! You can choose from a Chardonnay Aromatherapy Massage, Hydration Mini-Facial or Foot Reflexology to create your mini-spa day, and I decided to have the Chardonnay Massage and Mini-Facial. Both the massage and facial were great for me - a quick escape from the every day stress of life, which is so incredibly important for parents!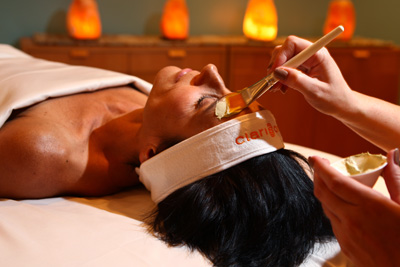 One unique feature at the VH Spa is what they do with your robe while you're having a treatment - they place it in a towel warmer, so when your treatment is complete and you are relaxed, you slip into a toasty warm robe - talk about stress-reducing! After your treatments, you can relax on the beautiful VH Spa deck (if the weather permits), or in the lounge. You also have all day access to the famous OH Pool, as well as the Hotel Valley Ho's state of the art fitness center.
Overall, I loved this spa, and since it's quite close to me, I have a feeling I'll be returning, especially after finding their Sunday "Swell Special," which features a 60 minute treatment, a 30 minute treatment, makeup application, as well as a glass of bubbly for $99. Sounds like a great place for a girls day, or a day alone, right?
Want to book an appointment? I know I do! You can check out their fabulous menu of services here, and you can call the VH Spa for Vitality + Health at 480-248-2000 to schedule your treatments, or you can fill out a form online and a representative will call you to make your appointment. The Hotel Valley Ho is conveniently located in Scottsdale, at 6850 E Main Street.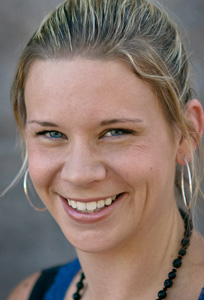 Photo courtesy Red Phoenix Photography
I'm Rachel - a mom, wife, and 'green' blogger at Small Steps On Our Journey. If you want me to come visit your place of business, have any questions on this article or suggestions for a future article, you can email me at rroland@azfoothills.com, tweet me at @rachelroland, or connect with me on Facebook.
Comments
(0)


Subscribe to this comment's feed
Write comment