Page 2 of 3
Originally from Minnesota, Scott also admits that he has always considered a life outside the suburbs. "Growing up in a relatively small town in the Midwest I've always thought that I would be intrigued with an urban lifestyle…so this is about as a close as I think we're going to get to it and it's pretty close," he says.

Although spectacular views are prevalent throughout the Bridgeview building, it appears the Nelsons' abode embodies it all. Enter the living room through the expansive entryway (an unexpected feature in a high-rise condo building) adorned with abstract artwork and a grandfather clock, and you cannot help but notice that the glistening lake below is in perfect proportion to the majestic mountains that sit in the background. Look to your left out the floor-to-ceiling windows and you'll spot the Mill Avenue bridges, which are lit up in a spectacular manner at night.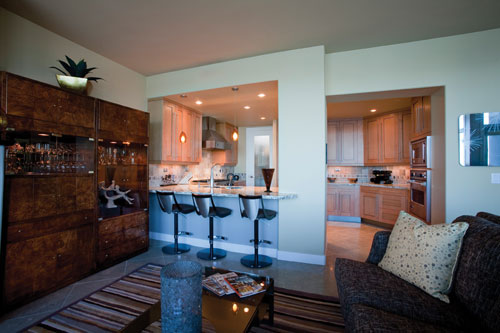 These views are certainly not wasted by the Nelsons. When making your way onto the private balcony (if you can get around the couple's strategically-situated baby grand piano, that is) you'll find a cozy outdoor sitting area. A comfortably modern sofa sits along the back edge of the balcony, while a character-lending coffee table that doubles as a chess and scrabble board rests in front. Relax on the couch or love seat and you might never leave—the furniture looks straight out to the bridges and Tempe Town Lake. Look down at the pool on a warm evening and you may even find Scott there. "I love to go down at night and sit by the pool and read; they've got these wonderful lights that are soft and they've got these great chairs," he says.
Despite the elaborate nature of many high-rise condos today, it is common to experience a twinge of disappointment in the realization that each unit resembles the next in layout and structure. However, visit the Nelsons' home and you might just forget that there are five stories below you and a penthouse above. The Nelsons purchased many of their furnishings from Laura Benton of Robb & Stucky, while Interior designer, René Summers of Studio 12 Design, LLC, helped create the comfortable ambiance.
Summers insists that the finished product is a collaboration of both her and Barbara's ideas and preferences. "She's probably one of the most ideal clients you could have as a designer because she's so open to what your feedback is and what you think is going to work and look good, and at the same time she is great at knowing what she likes and doesn't like," she says. Summers describes the interior as an "elegant, livable, contemporary space," which is first realized through the overall color scheme.
The easy mix of warm and cool tones coordinates well with the rest of the modern Bridgeview building, but also establishes a style all its own. "The color palette was pulled from some of the hard surfaces and materials that we had selected early on, knowing that those were some of the colors [Barbara] liked," Summers says.
Despite the Nelsons' plentiful room to roam—about 2,500 sq. feet overall—it was important to make sure excess space was not sacrificed during the design. The living room is what Summers calls a "great room," due to its expansive feeling. The limited space that often comes with a condo was managed with extreme precision. To save room, a space was cut out of the wall above the fireplace to house the television instead of a traditional wall-mount. In addition, Summers says that she and Barbara searched far and wide for furniture pieces that were comfortable yet small enough that they would not take over the room.