Today's sofa buyers aren't lying back on well-worn concepts.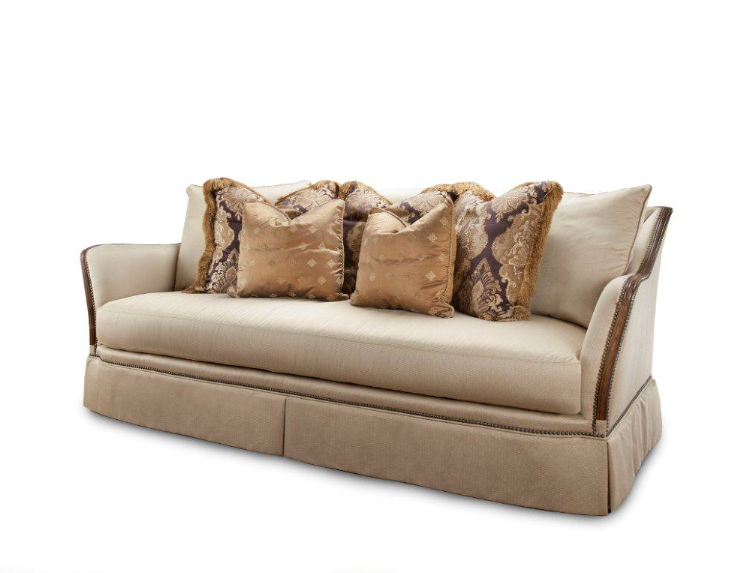 "Because we are still climbing out of a tough housing market, clients are really turning their attention back to what counts," says Jamie Wilke, a design consultant for La Maison Interiors, a full-service design studio and furnishings and accessories showroom founded by Alan K. Reinken and Davinder Chawla at 15450 N. Scottsdale Road.
His clients are regularly telling him: "First of all, I want to make a sound purchase. I want to buy a sofa that will last and is a quality addition to my home. I don't want to waste my money on a quick purchase or a trend that's going to last a short time."
In addition to value and longevity, La Maison patrons are looking for a focal point sofa for their living and great rooms that doesn't appear manufactured or fungible. "They're saying, 'I would like the piece to be domestic, handmade, detailed and, most of all, made especially for me,'" says Wilke, a Midwesterner who most recently lived and worked in Santa Fe in residential and commercial design. He joined La Maison Interiors for its opening, Sept. 1, 2011.
So, too, Wilke's clients are asking him for fabrics that wear and clean well; once again, the emphasis is on durability. Flexibility is also part of the fabric-selection process. People want fabrics that allow them to change the spirit of room to season, need or mood with accent pillows: for entertaining, holidays, daily living. Complex prints and off-the-main-road colors just don't provide this design expandability.
"'I would like to add some color against a soft palette on the walls and a similar palette on the sofa upholstery,' they are telling me," he says. In addition to solid or print pillows, these accents can also come from wood pieces in the room — a period armoire or a family heirloom grandfather's clock, for example. 
They want the space to be theirs — with other elements playing against this neutrality and flexibility in the largest piece in the room: "'I would like my antiques or family pieces to add a personal touch and whimsical design' is another comment I am often hearing," he says.
In turn, in working with La Maison clients in their homes, he asks a variety of questions in order to create the right sofa for their lifestyles: traditional, sectional, sofa plus recliner? For example: Will you be using the room on a daily basis? Will your family be watching television or entertaining here? When you do entertain, what is a normal seating requirement? Do you have pets, children, grandchildren?
And: Do you like a range of firm to softer seating? Will La Maison be working with any existing furniture/wall colors or window treatments? Do you have specific lighting requirements in the evening? Are there patterns or colors you like or dislike?
After Wilke reviews the answers, he draws the space and begins the design for the client, coordinating all of their needs as well as others that they have suggested. "Typically, I plan to show the client a few design options, and I like to explain what they can expect with each design," he says, noting that La Maison can generate almost any style and size sofa in most woods, including rare varieties. He then proceeds with textiles and finishes.
"Ideally," he says, "our La Maison clients will take delivery on a sofa that will accommodate their many needs and provide them years of easy maintenance and enjoyment."
La Maison Interiors, www.lamaisonaz.com, 480.948.1144