Feature of the Week: Greyhound Pets of Arizona
Greyhound Pets of Arizona is an all volunteer, non-profit organization dedicated to the rescue, rehabilitation and placement of ex-racing Greyhounds. Its primary objectives are to adopt Greyhound dogs into loving homes; educate the public about Greyhounds; and seek like-minded individuals who can foster dogs, volunteer their time or funds and aid the rescue mission. Please visit www.gpa-az.com or call 602.492.3511 to learn more about Greyhound Pets of Arizona.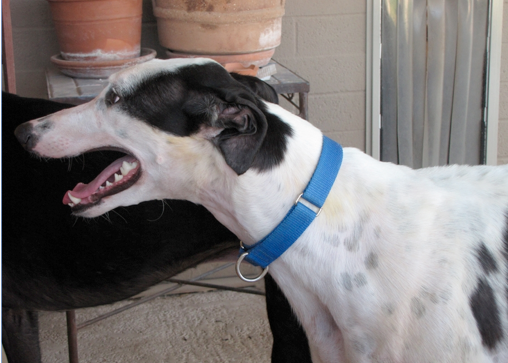 PETE
Pete (race name: Pistol Pete) is a 2½ year-old Greyhound whose fledgling racing career was cut short when he broke a tarsal bone.  He is generally well-behaved and has quickly endeared himself to his foster family. Pete LOVES children and will give a big smile when he is around them. He doesn't really understand his size so he should be monitored around smaller children but he would love to be in a home where there are older children who want to play with him. He still has a bit of puppy energy and would prefer not to be left on his own for long periods. He gets along well with all sizes of dogs but is not a fan of cats. He is a fun loving dog that will make an excellent addition to an active family. If you'd like to provide Pete with a forever home, please contact Michelle White ( This e-mail address is being protected from spambots. You need JavaScript enabled to view it "> This e-mail address is being protected from spambots. You need JavaScript enabled to view it ; 602.492.3511 or 619.884.1456) to arrange a meet and greet!
The Phoenix Animal Care Coalition (PACC911) is a non-profit organization uniting the local rescue community through adopt-a-thons, humane education, fundraising and the unique Emergency Medical Fund (EMF) available exclusively to its 100+ rescue partners. PACC911's EMF has allowed its partner rescues to save thousands of animals by providing financial assistance to offset costly medical treatment.  PACC911 relies on donations to sustain this life-saving fund. For more information on PACC911 or to donate to the EMF, please visit www.pacc911.org, call 602-992-4779 or mail your donation to: PACC911, 10645 N. Tatum Blvd., Ste. 200-516, Phoenix, AZ 85028.