Feature Partner of the Week:
Akita Advocates Relocation Team Arizona (AARTA) rescues and places unwanted and abused Akitas into responsible, loving homes. Since 2004, AARTA has placed over 500 dogs.  The largest of the Japanese breeds, the Akita is loyal to its family and protective of its home.  All AARTA dogs are spayed or neutered, micro-chipped, vaccinated, and many have a county license. Medical treatment is provided as needed. If appropriate, dogs are obedience trained to help them fit into a new home situation. AARTA is a small group of dedicated volunteers who are passionate about the breed.  Volunteers are always welcome to assist in fundraising efforts, foster care and transportation of dogs. Please visit www.akitaadvocates.org or call 602-882-5482 to learn more about AARTA.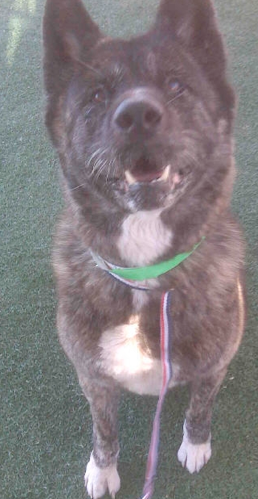 Miss Kitty is 11 years old but you can't tell by looking at her. A physical exam and full blood work resulted in a clean bill of health. Her teeth are white and her coat is gorgeous and clean. A sweet-tempered dog, Miss Kitty jumps into the car and loves to go for a ride.  She does an excited "dance" when it's time to go for her walk. The family lost their home and turned Miss Kitty into the county shelter. After a few days waiting to be adopted, no one wanted the old dog so she ended up on the euthanasia list due to overcrowding. She's a happy, easy-going girl who wants nothing more than to cuddle by your side, receive love and attention, and enjoy her golden years with a caring family. Seniors have so much to give and it only takes one look into her eyes to fall in love with Miss Kitty.
If you want meet Miss Kitty, please call Deb Harlow or Carol Harris at 602-882-5482 or email them at This e-mail address is being protected from spambots. You need JavaScript enabled to view it "> This e-mail address is being protected from spambots. You need JavaScript enabled to view it .
The Phoenix Animal Care Coalition (PACC911) is a non-profit organization uniting the local rescue community through adopt-a-thons, humane education, fundraising and the unique Emergency Medical Fund (EMF) available exclusively to its 100+ rescue partners. PACC911's EMF has allowed its partner rescues to save thousands of animals by providing financial assistance to offset costly medical treatment.  PACC911 relies on donations to sustain this life-saving fund. For more information on PACC911 or to donate to the EMF, please visit www.pacc911.org, call 602-992-4779 or mail your donation to: PACC911, 10645 N. Tatum Blvd., Ste. 200-516, Phoenix, AZ 85028