Arizona Paws and Claws is an all-volunteer, 501(c)(3) dog and cat rescue serving Arizona. Their mission is to match rescued dogs and cats with homes that will provide them with a lifetime of love and care. Arizona Paws and Claws has a dedicated group of approximately 40 volunteers who work tirelessly to rescue and rehabilitate hundreds of Phoenix area dogs and cats from foreclosed homes, abandonment and abuse. Please visit www.azpawsandclaws.com or call 602-714-4168 to learn more about Arizona Paws and Claws.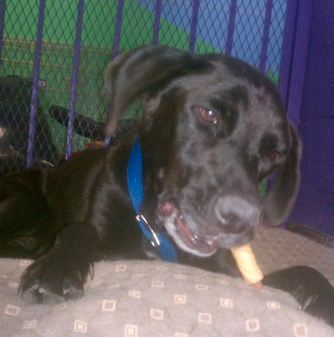 Chico was discovered at a local shelter, abandoned by his owners due to failing health. With every rib showing and legs too weak to support him, Chico lay on the floor of his kennel until he was taken in by Arizona Paws and Claws and nursed back to health. Just a few short months later, Chico is a fine looking boy who loves life. However, it was discovered that his untreated illnesses have left him blind. He is currently in training and quickly adapting. Chico enjoys playing with children and romping around the yard with his dog friends. He is truly a miracle dog.
If you have room in your heart and home for Chico, please contact Marcie Bailey at 602-992-2205 or email her at This e-mail address is being protected from spambots. You need JavaScript enabled to view it  or This e-mail address is being protected from spambots. You need JavaScript enabled to view it  to arrange a meet and greet.
The Phoenix Animal Care Coalition (PACC911) is a non-profit organization uniting the local rescue community through adopt-a-thons, humane education, fundraising and the unique Emergency Medical Fund (EMF) available exclusively to its 100+ rescue partners. PACC911's EMF has allowed its partner rescues to save thousands of animals by providing financial assistance to offset costly medical treatment. PACC911 relies on donations to sustain this life-saving fund. For more information on PACC911 or to donate to the EMF, please visit www.pacc911.org, call 602-992-4779 or mail your donation to: PACC911, 10645 N. Tatum Blvd., Ste. 200-516, Phoenix, AZ 85028.