AZ Happy Tails is a non-profit, all-volunteer organization that began as a mission to save dogs from the Ft. McDowell Yavapai Indian Reservation and has since expanded to the rescue and placement of stray, abandoned, and e-listed dogs and cats from open intake shelters. The group believes all pets deserve caring and compassionate homes, and the chance to live healthy, happy lives in safe environments. Please visit www.azhappytails.petfinder.com or call 480-363-6963 to learn more about AZ Happy Tails.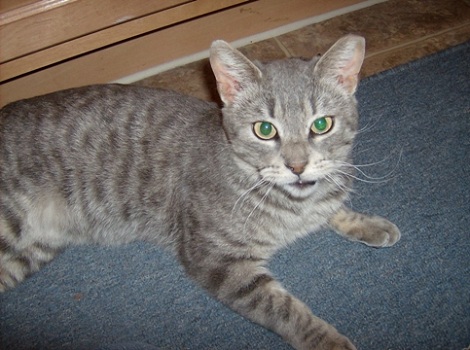 A kind stranger fed Rory, a stray, tiger-striped gray tabby cat. On chilly winter nights, Rory snuck into a neighbor's garage for warmth. Then the neighbor complained and, fortunately, AZ Happy Tails found room for one more unwanted animal.
Sweet and lovable, six-year-old Rory battled hunger and hardships but nothing dampened his disposition. He is content to snuggle on your lap, a cozy spot on the sofa, perched near a windowsill to watch birds, or wherever he decides is interesting for a cat. Rory is leukemia positive so he needs a special home either as an only cat, or with other leukemia-positive kitties. He's congenial and likes small dogs. Rory currently lives with another leukemia-positive cat and the rescue wants to place him with a companion so he won't be lonely. If you're interested in this spunky cat, please call Cyndy Bord at 480-406-4140 or email her at  This e-mail address is being protected from spambots. You need JavaScript enabled to view it .
The Phoenix Animal Care Coalition (PACC911) is a non-profit organization uniting the local rescue community through adopt-a-thons, humane education, fundraising and the unique Emergency Medical Fund (EMF) available exclusively to its 100+ rescue partners. PACC911's EMF has allowed its partner rescues to save thousands of animals by providing financial assistance to offset costly medical treatment. PACC911 relies on donations to sustain this life-saving fund. For more information on PACC911 or to donate to the EMF, please visit www.pacc911.org, call 602-992-4779 or mail your donation to: PACC911, 10645 N. Tatum Blvd., Ste. 200-516, Phoenix, AZ 85028.