Southern Arizona Beagle Rescue (SoAZBR) is an all-volunteer charitable organization dedicated to the rescue and re-homing of Beagles and Beagle mixes. Since their founding in 2005, SoAZBR has placed over 300 dogs into loving forever homes, with well over half having been rescued from shelter euthanasia lists. Based in Tucson, SoAZBR's service area includes Pima, Pinal, Cochise and Santa Cruz counties. They place recues into responsible homes all over Arizona and even New Mexico. All dogs are micro-chipped, altered and up-to-date on vaccinations prior to adoption. The rescue recently joined PACC911 and enjoys participating in local adoption events. Please visit www.soazbeaglerescue.com to learn more about Southern Arizona Beagle Rescue.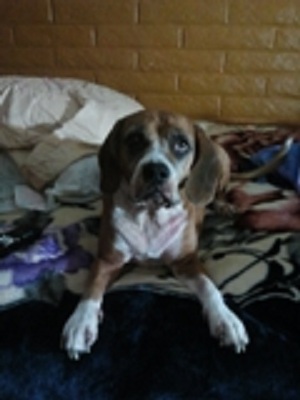 Laci is a 7 or 8 year-old Beagle-Boxer mix. A one-owner dog, Laci ended up homeless when her owner passed away. She is sweet and even-tempered, has basic obedience training and will sit up for treats. She is good with other dogs, people and small children. She fancies herself a lap dog, even though she's close to 50 pounds! Her favorite activities are sun bathing and riding in a car. House trained, Laci hasn't had a single accident in the four months she's been in foster care.
Laci is a special needs dog due to severe allergies including an intolerance to cats. She currently receives allergy shots every two weeks, as well as an over-the-counter pill, Zyrtec, every day.
If you think sweet Laci might be the girl for you, please call 520-247-7720, or email SoAZBR at  This e-mail address is being protected from spambots. You need JavaScript enabled to view it .
The Phoenix Animal Care Coalition (PACC911) is a non-profit organization uniting the local rescue community through adopt-a-thons, humane education, fundraising and the unique Emergency Medical Fund (EMF) available exclusively to its 100+ rescue partners. PACC911's EMF has allowed its partner rescues to save thousands of animals by providing financial assistance to offset costly medical treatment. PACC911 relies on donations to sustain this life-saving fund. For more information on PACC911 or to donate to the EMF, please visit www.pacc911.org, call 602-992-4779 or mail your donation to: PACC911, 10645 N. Tatum Blvd., Ste. 200-516, Phoenix, AZ 85028.