National Brittany Rescue and Adoption Network (NBRAN), a 501(c)(3) non-profit organization, is a network of dedicated volunteers in the United States and Canada. In 2011, NBRAN placed 537 Brittanys into loving homes. The Arizona chapter is equally passionate about the American Brittany, affectionately called a "Britt." NBRAN's Brittanys are placed in foster homes so they are accustomed to family living. Both shelters and owners ask for the rescue's help. They attend many rescue events throughout the year hoping to find great homes for their Brittanys and to create more interest in rescue. Please visit www.nbran.org or call 602-689-6152 to learn more about National Brittany Rescue and Adoption Network, to receive event notifications or to volunteer.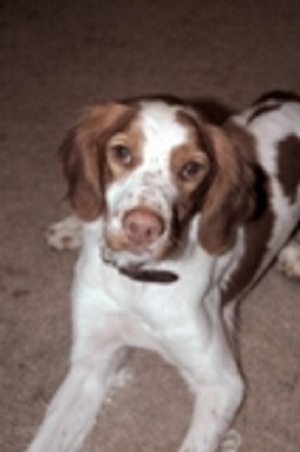 Raja is a petite five-year-old Brittany who looks and acts like a two-year-old. An active boy, Raja needs plenty of attention such as daily walks, play and behavior training. He would do well with another canine companion or in a family situation so he is not left alone for long periods of time. Otherwise, he looks to amuse himself.
Raja entered the county shelter as a stray. Despite a microchip, his owner did not claim him. Apparently, Raja wandered away one too many times and out of frustration, his owner ended their relationship. In the care of NBRAN, Raja has not attempted to escape because he has plenty of companionship. He is content being around other people and pets.
Raja is a perfect gentleman -- housebroken (uses a doggy door) and does not chew things. Once Raja gets to know you, he is very affectionate and loving. Raja obeys commands, is very intelligent and would thrive with additional behavior training.
If you are interested in meeting Raja, please contact Robin Smith at 602-501-1844 or email  This e-mail address is being protected from spambots. You need JavaScript enabled to view it . NBRAN's adoption process includes an application which can be completed online at www.nbran.org, a home visit and vet check.
The Phoenix Animal Care Coalition (PACC911) is a non-profit organization uniting the local rescue community through adopt-a-thons, humane education, fundraising and the unique Emergency Medical Fund (EMF) available exclusively to its 100+ rescue partners. PACC911's EMF has allowed its partner rescues to save thousands of animals by providing financial assistance to offset costly medical treatment. PACC911 relies on donations to sustain this life-saving fund. For more information on PACC911 or to donate to the EMF, please visit www.pacc911.org, call 602-992-4779 or mail your donation to: PACC911, 10645 N. Tatum Blvd., Ste. 200-516, Phoenix, AZ 85028.