Marley and Maggie are BEST BUDDIES and they must find a home big enough for the two of them.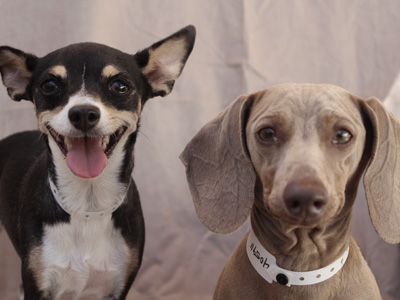 It may seem that tragedy had befallen the inseparable Maggie and Marley when their owner could no longer care for them. But should a loving family step forward and take these two adorable dogs in, it could be the best thing that ever happened to them.
Marley is a distinguished 4-year-old blue Dachshund (he looks like a miniature Weimaraner) and his best friend in the whole wide world is a beautiful 5-year-old Chihuahua named Maggie. Their lives are so intertwined that they cuddle together on a doggy bed and happily share food and treats. When they go on walks; it's side by side. When they play they each carry one end of a rope toy and race through the grass.
The two are leash and housetrained and they know all the basic commands. They are great with other dogs and older kids but they will need some time to warm up to cats and small toddlers.
They are available for adoption NOW at the Arizona Humane Society's Campus for Compassion located at 1521 West Dobbins Rd in Phoenix. They are on the Buddy System so their adoption fee TOGETHER is $110 but they must go home together. They have been spayed and neutered and vaccinated. For more information call 602-997-7585 x 1045 and ask for Maggie A405913 and Marley A405911.