Arizona's first and only 501(c)(3), IRS-certified charity Doberman rescue, DHDR is a no-kill rescue committed to forever placements and does their best to make sure the DHDR dog you take home is suited to your lifestyle. Their motto is "concern for the well-being of Dobies manifested through meaningful action". Please visit azdoberescue.org or call 602-492-8139 to learn more about DHDR.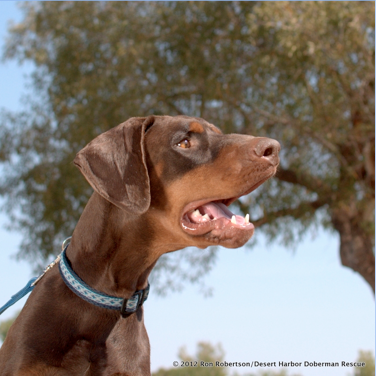 Bogart is a special guy, and one of the favorites in Desert Harbor Doberman Rescue's foster circle! He is 2-3 years old, 70 lbs, red, and docked with natural ears. Bogart does have some cranial malformations from a previous head injury, but that just adds to his lovable demeanor. His medical examination & radiographs have determined that he has full range of motion and is not in any pain. He did have some liver issues when he first arrived at DHDR but that condition has stabilized and he will just need some simple supplements for the remainder of his days. Seeing this handsome, happy Dobie, it is hard to believe that he was found at a shelter with hip puncture wounds and what looked like facial paralysis. Rescued by DHDR and with medical payment assistance by PACC911's Lulu's Angel Fund, he was able to receive the medical intervention he clearly needed. He does great with people, small children, dogs, cats, goats, chickens, and peacocks, but will need a proper introduction. Bogart easily clears the 4ft fence at his 
foster home to get in and play with the goats on their jungle gym, so a fenced yard is a must for him! He is learning basic obedience from his foster family, and becoming accustomed to his crate. Overall, the boy is such a lover that DHDR has nothing but awesome things to say about him. Whoever ends up with Bogie is going to be one lucky adopter!
If you have room in your heart and home for this beautiful Dobie, please contact Kyndall Holstead, Executive Director, DHDR at (602) 492-8139 or email her at This e-mail address is being protected from spambots. You need JavaScript enabled to view it  to arrange a meet and greet with Bogart.
Lulu's Angel Fund was established by the Phoenix Animal Care Coalition (PACC911) to provide financial assistance to encourage PACC911 Partner Groups to step forward for those animals who have been seriously abused or injured and are in desperate need of help to survive. The Phoenix Animal Care Coalition (PACC911) is a non-profit organization uniting the local rescue community through adopt-a-thons, humane education, fundraising and the unique Emergency Medical Fund (EMF) available exclusively to its 100+ rescue partners. PACC911's EMF has allowed its partner rescues to save thousands of animals by providing financial assistance to offset costly medical treatment. PACC911 relies on donations to sustain this life-saving fund. For more information on PACC911 or to donate to the EMF, please visit www.pacc911.org, call 602-992-4779 or mail your donation to: PACC911, 10645 N. Tatum Blvd., Ste. 200-516, Phoenix, AZ 85028