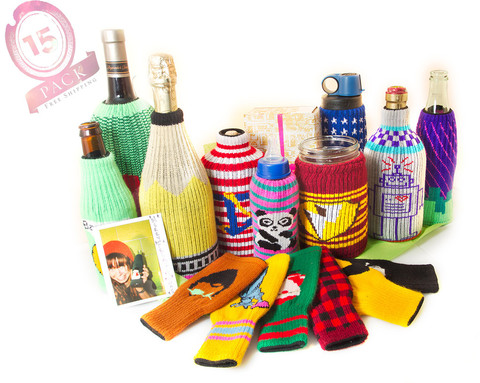 Freak Nation
I had a recent family reunion in Wisconsin, where beer koozies are a way of life. There were piles of them around the house in every shape and size, made for maximum bottled beer-drinking comfort. They were handcrafted of flotation device-esque neoprene, branded with Corona labels and other weird brewery emblems. Some had zippers on the sides, some were slide-on. When it came time to drink, picking a koozie was like picking a team, or Monopoly game piece. It's kind of a big deal.
I was kind of surprised by how incredibly luxurious it is to not have a hand covered in condensation, and a Corona Light that isn't warm.
Today I was in the Jonathan Adler store, and came across a few Freaker USA koozie styles. $10 each. I got two, and promptly slipped it on a bottle of brewski when I got home. I can't believe I have been drinking from naked beer bottles for so long. These guys are knit and stretch to fit literally any bottle. Champagne, wine, cans...you name it.
Freaker USA, the company who produces them, has quite the assortment of styles on their site. They only charge $8.
Be sure to watch the video on the About page. Also, isn't the word koozie hilarious?
Freaker USA, $8.