"The AZ Insider" with Kathy Shayna Shocket: Get the inside scoop on Arizona's social scene and celebrity news.
The week: Behind the scenes with Larry at Morton's
First of all, it's no secret that Larry Fitzgerald is one of the most stylish dressers in the NFL. Who else can get away with looking so debonair in a suit and tie while sporting shorts!
It was on this Sunday afternoon that the Arizona Cardinals superstar was at Morton's Steakhouse in Phoenix, chatting with an intimate group of about 10 reporters about his upcoming fundraiser.  I snapped a few photos as he was telling Channel 12's Sports Anchor Bruce Cooper (who we affectionately call Coop) about his knee injury he suffered during a Cardinals practice the day prior.   
On this particular Sunday, we chatted with Larry before Morton's opened to the public. In the bar area there was an impressive selection of Morton's culinary delights. And in the private board room? Cartoons. Yes, cartoons. The  animated stories were playing on large screen Plasma television. And every so often, Larry would get up and pop his head in the room. While some may have wondered if he was trying to catch a cartoon segment- it was actually because that's where his 2-year-old son Devin was enjoying Morton's hospitality.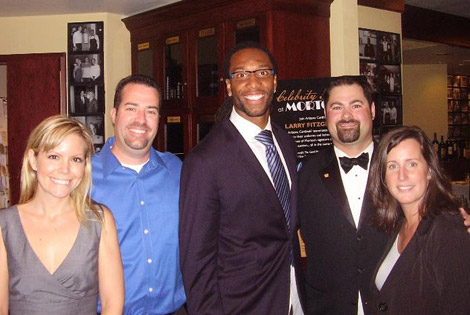 Pictured above are the Morton's team from the Phoenix and Scottsdale restaurants (Did you notice Larry's eyeglasses? The hint of blue on the frames - compliments the silky blue of his tie... Very subtlety sophisticated). From left to right are Sylvanna Holt, Chris Waddell, Michael Colleluori and Jen Town.
Morton's is excited about the Larry Fitzgerald & Friends Celebrity Server Night on Aug. 30. Imagine Larry Fitzgerald or one of his Cardinals teammates helping to serve up a gourmet dinner or pouring one of the fine wine pairings. Can't you just picture it as one of the Arizona Cardinals is serving a guest one of Morton's USDA prime aged 24-ounce porterhouse, a New York Strip double cut filet mignon flown in from Chicago, a succulent lobster, salmon or shrimp dish?
Celebrity servers include Arizona Cardinals Head Coach Ken Whisenhunt, defensive tackle Darnell Dockett, defensive end Calais Campbell, newly acquired outside linebacker Joey Porter, wide receivers Steve Breaston and Early Doucet, cornerback Dominique Rodgers-Cromartie, guard Reggie Wells, running back Beanie Wells and many of Larry's other Cardinals teammates. Also former Arizona Diamondbacks player Luis Gonzalez will be joining the fundraising bash.
Larry has teamed up with Morton's to raise funds and awareness for his foundation, the Carol Fitzgerald Memorial Fund, named for his beloved mother who he lost to breast cancer; and the Larry Fitzgerald First Down Fund.
The Carol Fitzgerald Memorial Fund was set up in memory of Larry's mother, who throughout her career as a state worker in Minnesota helped victims of AIDS, breast cancer and other diseases. This fund's proceeds continue her work, and the Carol Fitzgerald Memorial Foundation also supports the education of urban youth.
The Larry Fitzgerald First Down Fund was established to support children and their families. It has given money for computer equipment, vision care, and other activities to support youth.  Individual tickets for this exclusive event start at $300, with VIP packages featuring a special pre-event reception beginning at $400. Last year's event at Morton's in Scottsdale was a complete sell-out. But, if you're interested in finding out if there's still a remaining ticket for this year's benefit for around 300 guests, you can call Morton's at 602.955.9577.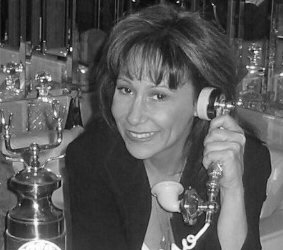 Kathy Shayna Shocket is a Phoenix based writer. If you have a good item for The AZ Insider, you can email her at  This e-mail address is being protected from spambots. You need JavaScript enabled to view it .