Your dog can't tell you where his favorite parks are so we will. Take a peek at the Valley's top parks for pups and their owners.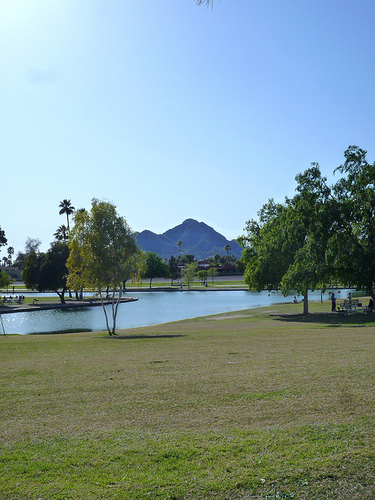 Cosmo Dog Park Cosmo Dog Park, located in Gilbert, is a favorite spot for dogs to play with other dogs and run off their energy. Cosmo Dog Park offers a dog lake, a dog drinking fountain and wash stations, designated small/large dog areas, nighttime lighting and even a play ground for kids. The park offers four fenced-in acres for your dogs to roam around and play while the dog lake is great for cooling off. Pet owners can even rent a ramada for the day. It's a great place for the whole family to have fun and let loose. www.ci.gilbert.az.us.
Chaparral Dog Park "Best in Show" voted Chaparral Dog Park the best dog park in Scottsdale. With four acres of park space, three of which are grass, water spots, shaded seating for owners and designated passive dog/active dog areas, it's obvious why Chaparral Dog Park is the best in Scottsdale. With so much space, there is plenty of room for many dogs and with nighttime lighting, it's a great place to go when it cools down after a hot day in the sun. www.scottsdaleaz.gov.
Crossroads Dog Park This two-acre Gilbert dog park is perfect for owners who want a more confined space for their dogs to play. The park offers three picnic ramadas available for reservation any day of the week. These ramadas perfect for dog parties or group play time. Bring either your active dog or more timid pup to Crossroads; there is a section for each. The shaded benches and tables are a great place for owners to relax as their dogs play. The designated dog drinking fountains are great for those hot summer days. www.ci.gilbert.az.us.
Shawnee Bark Park Shawnee Bark Park in Chandler is a great place to allow your dog to roam around as well as work off some energy on the dog obstacle courses. The obstacle courses are great for agility training for both small and large dogs. Many of the park visitors enjoy the actual park setting that Shawnee offers with plenty of grass, trees and hills. The park is very well kept and received a facelift last year that has been very well-received. Enjoy watching your pups run around and play on the provided obstacle at the park. www.chandleraz.gov.