Fringe Hair Studios delivers cutting-edge color, cuts and style consultations in their contemporary new space at La Encantada. Thinking about updating your do? This ones a definite!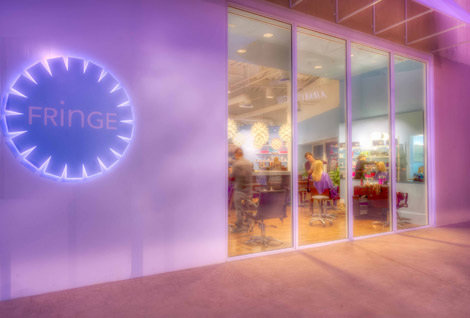 Open, airy and adorned with sculpted chandeliers, the salon's contemporary flare is a breath of fresh air. From the moment you walk in the door, sky blue walls and high ceilings emit a cool, calming aura—a nice break from this Arizona heat.
Recently relocated to the La Encantada Shopping Center, Fringe Hair Studios may be one of the best new additions to the Tucson Foothills. Whether you're looking for a hair-do overhaul or a quick touch-up for the new season, this salon offers everything you need to look your best without breaking the bank. Artistic and fashion forward, Fringe provides a broad range of high-quality services at a lower price than competing salons. As an added bonus, fringe trims in between cuts are always complementary so you can keep your strands free of frays.
The salon's wall display full of top-of-the-line hair products gives clients plenty of options to choose from to tame those tresses and get the style they really want. Grab a stool at the color bar for a fun way to change your hues. Recline back at the shampoo counter to get a scalp massage that washes away both dirt and stress.
At Fringe, staff members are continually educated on the latest fashion-forward techniques and trends for color, cut, and style. Their progressive approach to styling allows you to sit in that chair with the confidence in the person wielding the scissors and hot tools behind you.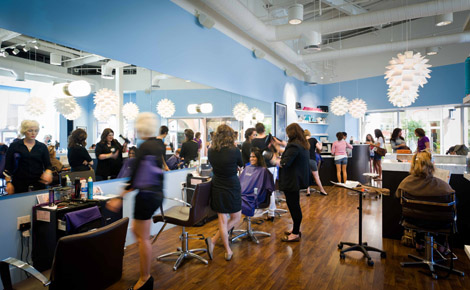 Need advice? Don't hesitate to ask. Not only are these stylists welcoming and friendly, but they know their craft inside and out. Trust the staff at Fringe with even your most manic hair crisis. They go out of their way to make sure they understand your needs and give easy tips for you to reproduce your salon style at home. Once you've enjoyed your service, spread the word. Fringe Hair Studios offers a rewarding referral program, so you and your friends can share in this luxurious salon experience and both leave with head-turning hair.
Fringe Hair Studios 2905 East Skyline Drive, Suite 160, 520.545.0600. Open 7 days per week. For more information go to: www.fringehairstudios.com