Page 5 of 5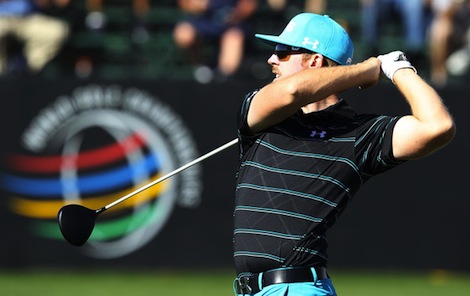 Rounding out my Top Ten Tucson Must See & Do are seasonal events, please check to make sure that you are coming during the right time of the year to enjoy these limited time pleasures. Sporting events are unique in that they pull members from all walks of society to make a cross-generational, multi-racial and all around interesting mélange of people.
Accenture Match Play Golf, The Ritz-Carlton Dove Mountain
Every February, the best in the world of golf descend upon the Ritz-Carlton Dove Mountain in Marana, approximately 30 minutes north of downtown Tucson. The top 64 golfers according to Official World Golf Rankings are invited to the tournament and are matched in a single elimination tournament resembling the NCAA Basketball tournament except that all matches take place on the same course. This is the social event of the year and Tucsonans swarm the event for its specialized format. For weeks heading into the tournament, the entire metropolitan area buzzes with golf fever, so it's only fitting it would be among the top 10 things to do in Tucson.
Unlike other regular golf events, golfers are matched and only the remaining 2 golfers vie for the Championship trophy on Sunday. Because of this format and limited golfers, the final day of the tournament is "Follow the Leaders" day where the general public can walk the course and literally follow the leaders through the final hole of the Championship to get the authentic feel that no other tournament can offer. www.pgatour.com
Tucson Padres Baseball
There is nothing in the world like Minor League Baseball; the wacky promotions, the ability to see past & future baseball stars and the family atmosphere that can be enjoyed without the exorbitant costs associated with Major League Baseball. From April to September, the boys of summer take the field at the Kino Sports Complex south of the city and put on a great show regardless if they win or lose.
The Triple-A affiliate of the San Diego Padres baseball club, the Tucson Padres are a member of the 16-team Pacific Coast League including affiliates of the Diamondbacks, Dodgers & Giants. The promotions are what make this a must do. Ranging from "Thirsty Thursdays" which offers $1.50 beers to the infamous bat nights (which will never be held in conjunction with Thirsty Thursdays again) to Military Appreciation & "Bark in the Park" wherein all active duty & veterans receive free admission and you can even bring your dog for a $5 donation to the Humane Society and enjoy time in park with your furry friends and family.
This is not an exhaustive list of things to do and see yet only my observations since moving down to Tucson from the Valley five years ago. Be sure to keep an eye out for future Top Ten Tucson articles as I go in-depth looking at all that this fair region has to offer. www.milb.com