Around Southern Arizona, restaurants have geared up for summer and are offering delicious summer eats for less. Wildflower, a Fox restaurant concept located on Oracle Road in Casas Adobes Plaza, has recently done the same. With new menu items and killer prices, its no wonder Wildflower is one of the top summer hot spots.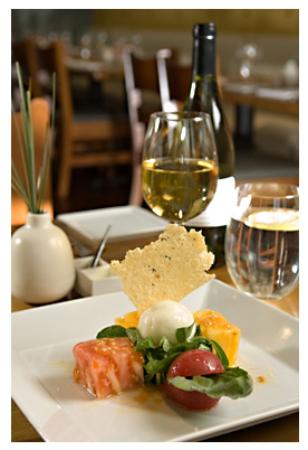 Wildflower has re-visited their approachable menu for the summer. Chef Omar Huerta has added summer inspiration to the restaurant's top dishes as well as some new entrees and lighter fare. With the new menu in place, Wildflower has something for everyone.
Old favorites like the Asian-influenced Edamame Dumplings and the Sashimi Tuna appetizer are still available. The delicious Chicken Street Tacos and the one-of-a-kind Fish and Chips are also still on the menu, ready to satisfy any craving. New summer menu items utilize the freshly made pasta, which is cooked up daily by Chef Huerta. These dishes include a Fettuccini "Cioppino Style" for $20 and the Sweet Corn Agnolotti for $15.
Chef Karen "Spike" Ames has also done her share of adding summer flare to the menu, adding summer sweetness to the dessert menu. New dessert selections include a Summertime Crostata with berries, stone fruits, vanilla crumble, and hazelnut gelato for $7.
Summer highlights at Wildflower also include Sunday and Monday Dinner Specials, a three-Course Prix Fixe menu for $35 Sunday through Thursday, and a delicious summer lunch menu. Tuesdays all day, guests can enjoy 50 percent off all bottles of wine, and Wildflower Happy Hour is offered daily from 3 p.m. to 6 p.m.