Shlomo & Vito's, a popular delicatessen in Tucson, will be reopening August 17. The delicatessen hopes to expand on its East Coast popularity, by reopening and adding an authentic pizzeria to the diverse menu.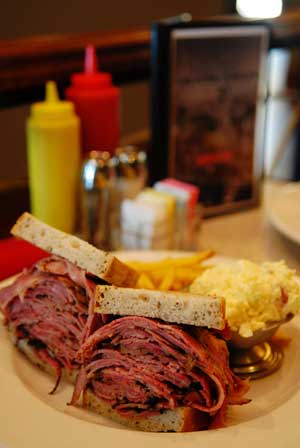 The new Shlomo & Vito's will serve some of New York's most popular fare, bringing the true style of New York eats to Tucson. Guests at the restaurant can snack on the finest Jewish, Italian, and American eats, from sandwiches to pizza to pies.
The reopening is especially exciting, as it will partner with the Leukemia Lymphoma Society. From August 17-26, ten percent of the proceeds from every pizza sold will go to the organization.
The media night, held Friday, August 17 from 7 p.m. to 9 p.m., will be a private VIP event in conjunction with the organization. This media only event will raise funds for the organization and will kick off the grand reopening, held Sunday, August 19 from 6 p.m. to 8 p.m. The opening event will feature a "Tucson Hunger Game" in the Courtyard of Plaza Colonial. In the competition, local high school football teams will compete for their chance to win proceeds of funds raised that day. An eating contest, featuring the linemen from each school, will also take place.
As part of the reopening, the delicatessen will also offer delivery service for breakfasts, lunches, and dinners to close homes and offices.