LUSH Fresh Handmade Cosmetics, a popular cosmetic "deli" with over 800 locations worldwide, opened February 28 at La Encantada in Tucson. The shop offers ethical skin care, hair care, bath and body luxuries, and unique gift ideas.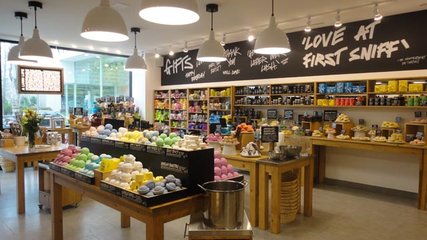 LUSH is a great addition to the beautiful shopping and dining experience at La Encantada. As the ultimate beauty delicatessen, LUSH displays its products in a very unique way, as if it was a deli. Fresh, handmade soaps and beauty products are displayed across the store for guests to sample, creating an interactive experience for shoppers.
Customers can choose their cosmetics from the pic 'n' mix skin care at the cleansing bar, purchase solid chunks of shampoo or piles of bubble bar slices, or see the fresh face masks displayed on ice in the store. Adding to the "deli" environment, a cozy kitchen table sits in the store where guests are encouraged to discuss the skin and hair care products with one of LUSH's consultants.
LUSH's matchless interactive environment makes it a top place to shop for beauty needs. Encouraging customers to smell and touch the products, LUSH gives guests the chance to get to know the products before purchasing.
On top of their wonderfully unusual approach to selling cosmetics, LUSH also strives to be eco-friendly in design and products. Using organic fruits and vegetables, the finest oils, and other gold-medal ingredients makes LUSH's products truly exclusive. LUSH products are also 100 percent vegetarian, 82 percent vegan, 60 percent preservative-free, and 38 percent free of wasteful packaging. No animal testing is done on LUSH products or ingredients. The environmentally safe ethics of the store will continue at its new Tucson location.
LUSH invites newcomers to experience the store and products first hand. Grab a girlfriend and head to La Encantada for lunch and an interactive experience that will change your perspective on skincare.