Rachel Roland is a mom on a mission - exploring beautiful Arizona (and beyond!) with her two little companions, Jeremiah and Sarah, in search of the best restaurants, attractions, and products for you and your children. See what she has in store for your family today!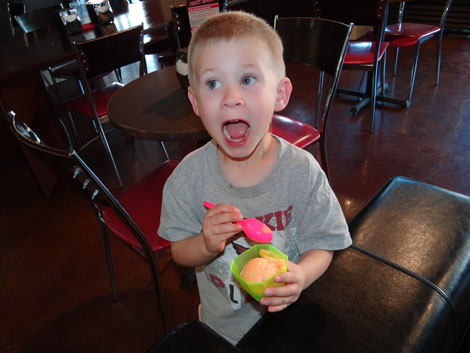 This is kind of a long shot, but I'm willing to bet that your kids (and you, too, probably) enjoy ice cream. I have a soft spot for the sweet stuff, and that's why I was excited to try Pink Spot Coffee and Ice Cream, which is located on Central and Thomas in Phoenix. There are so many good points about Pink Spot, and I'll try to hit them all quickly.
First, coffee. Yes, they serve delicious espresso creations if ice cream isn't your thing. They have a great Americano, and their lattes come in various unique flavors - like raspberry chocolate and the 'yin yang' latte. They also have the blended coffee drinks that are so cool and refreshing as the temperatures heat up!
They also offer some interesting treats in addition to ice cream. You can have a chocolate dipped peanut butter ball (they're HUGE), and kids can create their own ice cream sandwiches and ice cream tacos. There are also frozen chocolate dipped bananas as well as....chocolate covered bacon! This is definitely an unusual and interesting sweet to offer, to say the least!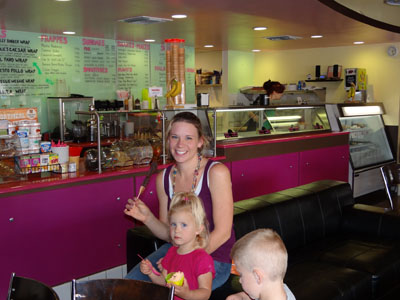 One thing I need to confess is that I love bacon, and of course I had to try the chocolate covered bacon. It was weird - probably not something that I'd order again, but Pink Spot is a place I'll be bringing lots of out of town visitors to check out!
They don't just offer coffee and ice cream, though - they also offer breakfast all day, and wraps, too. They're really a one-stop-shop that has a funky, relaxing atmosphere that both children and adults can appreciate. They even have toys for the kids and books for both kids and adults to enjoy during their time. There's a 'no rush' attitude at Pink Spot that makes you feel like you're welcome and appreciated!
If you want to visit, Pink Spot Coffee and Ice Cream is located at 49 West Thomas Road, in Phoenix. Stop by for a cool treat as the temp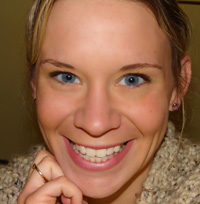 I'm Rachel - a mom, wife, and 'green' blogger at Small Steps On Our Journey. If you want me to come visit your place of business, have any questions on this article or suggestions for a future article, you can email me at This e-mail address is being protected from spambots. You need JavaScript enabled to view it or tweet me at @rachelroland.
Comments
(0)


Subscribe to this comment's feed
Write comment