Page 1 of 5
With temperatures soaring to the triple digits daily, Arizonians know that summer has arrived. Even though the season is known for more relaxation, it can still remain a stressful time. Whether taking into account summer jobs or classes, scheduling family vacations, catching up with extended family and friends from out of town or just trying to squeeze in some alone time can be challenging. The trick to alleviate summer stress is to visit one of Arizona's finest resorts for a sumptuous treatment. Grab a couple of friends and enjoy a day of tranquility that will make the rest of your summer scheduling a breeze.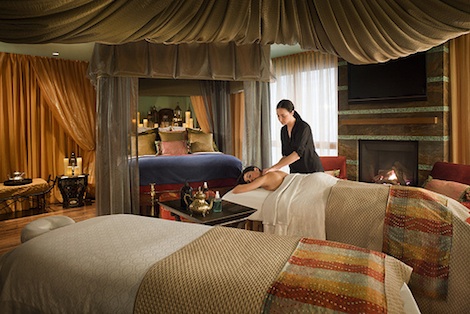 Joya Spa at InterContinential Montelucia Resort & Spa
Joya Spa at InterContinential Montelucia Resort & Spa is designed for costumers to feel like they are visiting the beautiful deserts in Morocco. Joya Spa is decked out with indigenous materials that intertwine the Moroccan culture with a sense of serenity. The spa extends over more than 31,000 square feet and includes Arizona's only authentic Hammam bathing area. Hammam is a Middle Eastern spa tradition that relaxes and replenishes the mind, body and soul. In addition to the one-of-a-kind Hammam experience, Joya Spa also offers 19 peaceful treatment rooms, an exquisite pool terrace with mountainous views and lavish suites that are fit for a queen. Joya Spa is a place of exploration. So if you are looking to treat yourself to a fresh pedicure or catch some rays on the rooftop terrace, Joya Spa will unleash the Moroccan explorer in you. 480.627.3200, http://www.joyaspa.com.